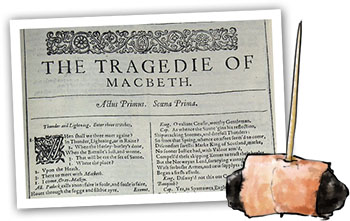 I like my Halloween with a dose of classic. Not for me the gruesome slasher movies of my teenage sleepover years – no virgin safe, no mirror unbroken, buckets of gore. I prefer a good old fashioned scary story.
One of the highlights of my first term at university was the Gothic literature lecture series. I spent Halloween weekend sitting by the bar fire in my room at the top of staircase 11 in the old part of college, reading outlandishly creepy narratives and drinking cheap red wine. Castle of Otranto, Dracula, Frankenstein, Woman in White, Hound of the Baskervilles, plenty of Henry James, lots of Charles Dickens. I devoured them all into the small hours of the morning, pausing only to snack on hot buttered toast and refill my glass. At one point I wore lace finger-less gloves, as I was wont to do, to keep my hands warm. Most probably I've never been so ostentatiously stylish since. I'm glad I had that weekend in my life.
Also, Macbeth. I saw the Scottish Play a few Halloweens ago, actually on Halloween itself, that was part of the gimmick, and it was all going swimmingly until one of the gels on a light started to burn, creating the most awful smell, and a loud crackling noise. Then, suddenly, all the lights blew out. For a moment, we all sat in darkness wondering whether this was part of the affect, feeling strangely unnerved. Then the fire lights came on and we all had to evacuate, which was a more prosaic ending than it might have been really, though all the actors were standing around in the rain, in costume, bumming cigarettes off the audience and muttering about the curse.
But really, my heart belongs to ghost stories. Not a terribly safe pastime for a person with an overactive imagination. I love to buy those bumper editions of 100 Greatest Ghost Stories. 25 Victorian Classic tales of Terror. Jon tuts and reminds me that I will give myself nightmares. I continue regardless.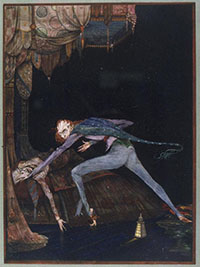 Top of my list, and a must read every Halloween, Edgar Allen Poe, Telltale heart. 2 pages long. Totally, totally gripping. if you've never read it, click on the link when you've got five minutes to spare, and prepare to have your heart skip a beat.
Another Halloween classic, perfect to snack on along side a glass of wine and a night in with Dracular, these devils on horseback. They're bacon wrapped prunes, usually with an almond stuffed inside, but I tend to leave it out, partly because it's fiddly, and partly because I don't like the crunch when eating – it feels too much like a left in by accident stone.
If you want to balance things out on a culninary / cosmic level, make some angels on horseback to go alongside – bacon wrapped apricots.
Devils on Horseback 
1 rasher of streaky bacon for every 2 no soak de-stoned prunes
I usually count on people eating 4 or 5 depending if there's any other food to eat. They can be made in advance and frozen, then cooked from frozen in the oven.
Cut a slice of streaky bacon in half
Using a knife blade carefully stretch out the bacon as though you are buttering bread
It should now be much thinner and about the same length as the original slice
Place the prune at one end and roll up
Put on a tray with the loose side on the bottom
Cook in a hot oven (400ish) for 12 – 15 minutes until the bacon is cooked
Allow to cool for a few minutes before serving
If You Can Make That You Can Make This:
Make angels on horseback (apricots)
Wrap half a fresh fig topped with a thin smear of goat cheese in bacon for a fresher take on the classic