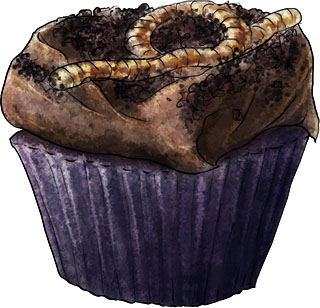 It's almost Halloween. It will be celebrated at work with compulsory fun – a dressing up competition with prizes. There will also be alcohol, which I'm guessing will help.
But here's the thing; first Halloween in a new job is tricky. How much dressing up is too much dressing up? If I were in London, I'd know the answer to this. A pair of dingly bopper bats would be plenty. But here in New York where people dress up like Cat Woman just to go to a bar in the village on a Friday night, that's probably not going to cut it.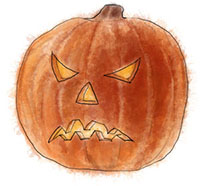 Of course, I asked people in the office how full on I should take it. But something about the gleam in their eyes tells me not to trust them.
So in the mean time, I consider my options, and make cakes.
Ever since St Patrick's day, when I bought the green food coloring paste and made a green red velvet cake, the idea has been at the back of my mind to make orange and purple ones for Halloween. Topping them with worms in dirt is literally the icing on the cake.
My basic recipe is from Martha Stewart, though I halve the quantities to make 2 separate batters, one for the orange food coloring, one for the purple. Each batch of mixture makes 12 muffin sized cakes, though I make tiny cakes (about 1 heaped tsp of mixture per case), which take about ½ tsp of Oreo "dirt" topping and 1 perfect jelly worm, (about 30 cakes)
A note on food coloring: Pastes are a lot more concentrated and therefore, you'll need less of them to make a proper color change. It's really worth spending the extra.
Orange / Purple red velvet cakes with worms in dirt icing
For each batch:
1 ¼ cup cake flour
1 tbsp good quality coco powder
½ tsp salt
¾ cup sugar
¾ cup vegetable oil
1 large egg
At least 1 tsp of purple or orange food coloring pastes
½ tsp good quality vanilla extract
½ cup buttermilk
1 tsp baking soda
1 tsp white wine vinegar
 
Pre heat the oven to 350f
Line muffin tins with liners or line up the mini cup cake cases on a tray (I double them for extra sturdiness)
Sift the flour, salt and coco together into a mixing bowl
In a different bowl whisk the sugar into the oil (electric beaters really help here) until smooth, then whisk in the egg, the food coloring and the vanilla
With the beaters on low mix in the flour mixture in three batches, alternating with the buttermilk
Stir together the baking soda and the vinegar – it fizzes up – then add to the mixture, beating for a further 10 seconds.
Scrape into the muffin cases then bake for 20 minutes.
Meanwhile, make the second batch of cakes and bake for 20 mins
Cool on racks until cold
For the icing: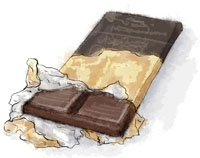 1 cup (2 sticks) soft butter
2 ½ cups confectioners sugar (icing sugar)
6 oz dark chocolate
¼ cup milk
1 tsp good vanilla extract
¾ cup oreo cookie crumbs
Lots of jelly worms or other insects according to your taste level (cola worms look particularly gruesome)
 
Melt the chocolate in the microwave or in a bowl suspended over a pan of simmering water
Put all the ingredients apart from the worms and oreos into the mixer and mix gently until combined
Turn up the mixer and whip for 2 minutes until soft and fluffy
Ice the cakes, sprinkle over the cookie crumbs to resemble dirt, then top with worms
If You Can Make That You Can Make This
Make regular cup cakes and ice in the same way (for chocolate ones, take out 1 tsp of flour and replace with coco)
Or make green velvet cakes topped with jelly eyeballs (monster face cakes)
Or make a less gross out version using orange cake, chocolate icing, dirt and sugar pumpkins (pumpkin patch cakes)
Or try your hand at a spot of general baking