It was a fancy dress parade for dogs. In Tompkins Square park.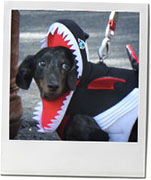 Upwards of 500 dogs, expressions of their owners' creativity and flair, long stultified by gray office jobs, and now released on the world in Technicolor. Also one dog whose owner was drawing on eyebrows with a pencil to make it look "more like Zsa Zsa Gabor".
We watched as dogs were led up on stage with varying degrees of obedience and sheepishness; "Here's Ashley and her dog Poppy. And Poppy's come as a shark!" * clapping *  "And here's Doug with Misty. Misty has come as a Wall Street Protester!" *clapping*.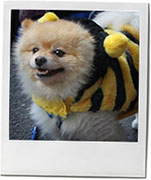 Jon and I agreed. This is probably what it felt like just before the fall of Rome.  We gotta enjoy it while we can.
So we bought ourselves hot apple cider and sat on a bench next to a woman whose dog was "a model. Because she's so cute. She'sdone dog food, and she was in Gossip Girl this one time. She's a pro." This proved to be the case when a photographer with a giant press pass slung around his neck approached. "She'll pose for you. Are you ready for this? Pose!" Amazingly, the dog did.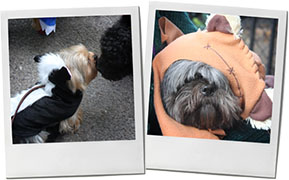 There was a dog dressed a skunk, and one dressed rather convincingly as an Ewok.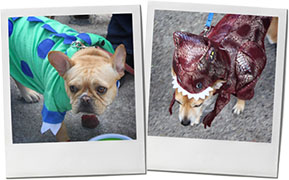 Dinosaurs were big this year.
Some dogs embraced the occasion with joy. Other dogs, not so much.
The spirit of Halloween was in our hearts. And moments later, in our glasses.

Satan's Whiskers 
This is one of those vintage cocktails that make you feel very sophisticatedly Mad Men when you drink it. It's been around since the 1920s, first published in Harry Craddock's Savoy Cocktail Book in 1930, and there are two versions, one using Orange Curaco, which is a Satan's Whiskers "curled", and this version, using Grand Marnier, which is "straight".
It's the kind of proper, serious cocktail that ought to be drunk around a fire, listening to someone read ghost stories aloud. Or, alternatively, after watching a dog costume parade. Either or.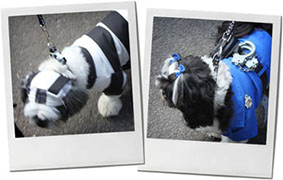 For each glass:
½ oz gin
½ oz Grand Marnier
½ oz sweet vermouth
½ oz dry vermouth
½ oz orange juice
Dash of orange bitters
 
Shake over ice and strain into a chilled glass
Roasted pumpkin seeds
The happy by-product of my husband's pumpkin carving and my soup making, we now have jars of roasted seeds to snack on at a moments notice. They're also great tossed into salads (spinach, dried cranberries, goat cheese and pumpkin seeds with a light olive oil balsamic vinaigrette – my packed lunch all week).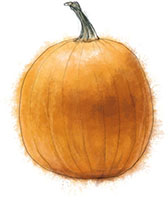 1 cup pumpkin seeds
2 tbsp olive oil
1 tsp salt
(1 tsp brown sugar
½ tsp paprika
½ tsp rosemary – optional)
 
Preheat the oven to 300
Wipe the seeds, pulling off big chunks, but don't worry too much about the rest – it's all good flavor
Toss with olive oil and salt and with the other flavorings if you like, then spread out on a baking sheet
Roast for 45 minutes until crunchy