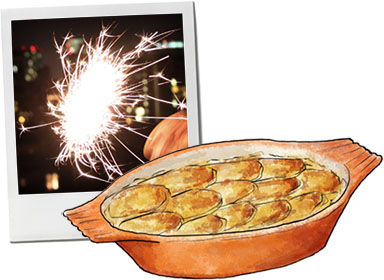 Jon loves Bonfire Night. There's a tradition in his family of building fires taller than the house, that melt the guttering and cause the fire brigade to stop by to see if everything's ok, and accept a plate of food and a hot drink.
My childhood bonfire nights involved the school playing field and holding sparklers with my gloved hand so as not to get burned and not pointing them at anyone as I wrote my name in a bright zigzag trail of starlight.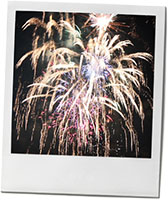 Last year we introduced some of our American friends to the concept of celebrating the night in 1605 when Parliament did not get blown up. "Sparklers, dinner and hot toddies" I told them. Then I tried to find sparklers. Turns out they're more or less illegal in NY. My search turned up nothing, even in Chinatown, where a total stranger on the street tried to sell me a ripped off Chanel and $10 of weed.
We ended up with sparkler birthday candles, which are legal, but in fact, way more dangerous, since their stick is so short your fingers are pretty close to the sparks. Nonetheless, it was a fun night out on the balcony, with the light fizzing in spirals in our gloves hands.
Now usually, Bonfire Night means chili and baked potatoes. And there's nothing wrong with this plan at all. But this year, my sister gave me individual little Le Creuset-style pots, and I've been waiting for the right occasion to bring them out. So this year, radical departure, it's going to be Lancashire hotpot – rich lamb stew topped with layers of sliced potatoes.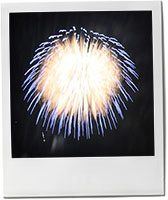 It's a dish that takes me in a moment back to my Grandma's kitchen in Wigan – yup, this is Lancashire hot pot from Lancashire – where she'd chop potatoes and I would sit up on the counter and chat.
The wine is my own flourish – my Grandma would not credit it, but it does bring a resonance to the stew and dresses it up a little for company.
Lancashire Hotpot (serves 6)
1 kg lamb shoulder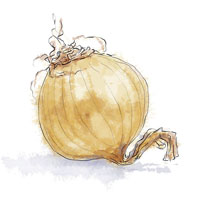 1 kg potatoes
3 onions
4 carrots
2 tbsp flour
2 tsp Worcestershire sauce
500ml chicken stock
½ cup white wine
2 bay leaves
Salt and Pepper
2 tbsp butter
Vegetable or light olive oil
 
Get everything prepped – peel and slice the onion into half moons, peel and chop the carrot into disks, peel the potatoes and slice thinkly into disks (use a processor or a mandolin if you have one), cube the lamb into bite sized chunks
Preheat the oven to 300f
Heat 1 tbsp of butter in a splash of oil in a pan that can go in the oven later (or use a frying pan and transfer everything to a casserole dish). Season the lamb cubes, then brown in batches, setting aside as they're done
Add some more butter and oil, and cook the onions until soft (about 5 mins)
Pour in the wine and scrape up the bits into the sauce, then add the lamb, carrots, stock, bay leaves and Worcestershire sauce and season everything well
Layer the potatoes on top, brushing the layers with oil or butter and seasoning well
Put a lid on, and bake for 2 hours
Take the lid off, bump up the oven to 450, brush the tops of the potatoes with oil or butter and brown for 15 – 20 mins until golden (you can do this in the broiler / grill if that makes life easier – takes about 10 mins)
Or, if you prefer to make individual hotpots:
Prep everything, and make the stew as above in a big pan. Don't cover with the potatoes, and bake as above at 300f for 1.5 hours. (You can stop here and freeze this stew or keep it in the fridge over night, if that's helpful. Prep the potatoes the day you're making the stew though, and keep in a bowl of cold water. Much longer and they'll go black.)
Spoon into individual dishes, top with potatoes, brushing with oil, cover with foil "lids" and bake for another hour
Take off the lids / foil and brush the potatoes with butter or oil, then bump up the oven to 450 and bake for 15 – 20 mins until the potato is browned on top
Hotpot should be served with pickled red cabbage from a jar, and pickled beetroots. It just should.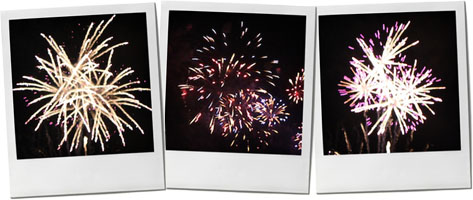 If You Can Make That You Can make This
Add a sprig of rosemary to the stew, and use red wine for a deeper flavor
Replace the lamb with chicken to make a lovely chicken stew – just don't call it Lancashire Hotpot
Top the cooked stew with shop bought puff pastry – you just made meat pie
Ditch the idea of topping altogether, and serve the stew in bowls with crusty bread and a spoon
Once you've ditched the topping, you have easy access to add peas to the stew about 10 mins before you want to eat it