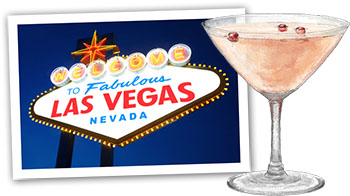 One year, Jon and I abandoned traditions that we hardly even knew about yet, and spent Thanksgiving weekend in Las Vegas.
We found $40 rooms at the Luxor on the internet, where they threw in free gaming lessons and a pile of free chips. Given that Jon was brought up more or less Quaker and I was brought up emphatically Methodist, holding the pile of chips was almost thrill enough.
Now Jon had some previous experience of cards. His grandmother, while bed ridden with pneumonia, taught him to play whist so he could play games with her. Having mastered the basics, she went on to pass on a legacy of cheating that secured him ill gotten honor and glory.
Even so, Vegas was a bit of a shock. Vegas at Thanksgiving even more so than regular Vegas would have been. Pilgrims wandered amidst the Egyptian themed gaming tables. Vodka ice luges in the shape of turkeys graced the buffet. My frozen cocktail came in a hollowed out pumpkin with a green straw.
So it was not a traditional Thanksgiving by any means, although we were extremely thankful for it.

White Cranberry Cosmopolitan (per glass)
This white cranberry cosmo is not a traditional cosmopolitan – it's got a little razzle dazzle. Razzle Dazzle on a scale of cosmopolitans that is – it's no frozen pina colada in a hollowed out pumpkin.
White cranberry juice has a sweeter tang, and a lovely pearly color that's perfect for floating a frozen cranberry or two in keeping with the holiday spirit. They're something of a tradition in my house now – on the basis that anything you do for more than 2 consecutive years can be called a holiday tradition. I tend to use lemon vodka, though if you only have regular vodka that's fine too – up the lime to taste.
1 measure white cranberry juice
1 measure lemon vodka
½ measure Cointreau
3 frozen cranberries
Good squeeze of lime juice – I use about half a lime per glass, but I like my drinks pretty tart
 
Shake over ice
Serve in a martini glass garnished with frozen cranberries

Roasted butternut squash goat cheese wonton bites (serves 4 – 6)

These wontons are much easier to make than they are to describe really – and have the added advantage of tasting exceedingly naughty and deep fried, when actually they're baked, so the kitchen smells of Thanksgiving loveliness, not hot fat. They can be made in advance and left in the fridge on baking trays, ready to heat up when needed.
12 – 16 wonton wrappers
½ butternut squash
½ log goat cheese
Salt and pepper
1 egg
Vegetable oil
 
Pre heat the oven to 400f
Peel, de seeds and dice the squash into small cubes, toss with vegetable oil, salt and pepper, then roast for about 20 mins until tender
Puree in the blender or processor until smooth
Crack the egg in a bowl and whisk to break it up
Lay a wonton wrapper on a flat surface and dab about 1/2 tsp of the squash puree in the middle, then pick of about ¼ tsp goat cheese and place on top
Use your finger or a pastry brush to dab egg around the edges of the wonton wrapper
Fold the disk in half to make a triangle enclosing the filling, then press down the edges pushing out the air and sealing the parcel shut
Repeat until you've made all the parcels
Brush with a little vegetable oil
Bake for about 5 mins until crisp
If You Can Make That You Can Make This
Swap out the goat cheese and add a tbsp of ricotta to the squash mixture
Roast the squash with rosemary
Or try toasting the squash tossed in chili oil
Try these mango chutney mozarella wonton parcles
Or these pizza bites