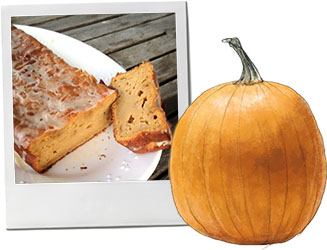 Thanksgiving is just around the corner. Great excitement; the paper turkeys can once more grace the window sill. That's not a metaphor for something. I mean actual paper turkeys. And also paper pumpkins and garland. Gotta love a theme.
I remember our first Thanksgiving. Chicago. Snow. Fantastic parade featuring Pilgrims wearing Ugg boots.
And though it's not snowing here in NY, it's the kind of weather where a cup of tea and a slice of cake is most appreciated. This spiced pumpkin apple cake has all the flavors of fall, and, if you ever so slightly under cook it, it takes on a texture somewhere between cake and pie, damp and soft. For a cakier cake, add a tbsp more flour and cook for the full hour. Once baked and cooled we're on to the really good part; a beautiful buff maple glaze, or a full on cream cheese maple frosting.
Either way, it's a perfect Monday treat.

Spiced Pumpkin Apple Cake
3/4 cup of pumpkin puree (I use Whole Foods organic unsweetened pumpkin)
1 apple
1 ¼ cup flour
¾ cup sugar
1 tsp baking powder
Pinch of salt
1 ½ tsp pumpkin spice (or 1 tsp cinnamon, ½ tsp ginger, ¼ tsp nutmeg)
2 large eggs
½ cup vegetable oil
½ cup plain yogurt
Oil or butter for greasing the cake tin
 
Preheat the oven to 350f
Grate the apple and squeeze out the juice in your hands. Put into a mixing bowl with the pumpkin, flour, sugar, baking powder and spices
In a separate bowl or jug mix the eggs, yogurt and oil until smooth then add to the dry mix and stir to combine
Scrape into a greased cake tin (I use a loaf tin about 9 by 6 inches) and bake for 50 – 60 mins (you want to top to be slightly browned)
Cool for 30 mins in the pan before turning out
Leave for another 30 mins to cool before frosting
Maple Glaze
This sweet, almost smoky glaze is an elegant and simple finishing touch
1/4 cup + 1tbsp maple syrup
1/2 cup confectioners (icing) sugar
1/2 tsp lemon juice
 
Sift the icing sugar into a bowl, and mix in the maple syrup until you have a thin spreading consistency
Drizzle over the cake and leave to set for an hour
Maple Cream Cheese Frosting
So this is full on frosting greatness. It really is totally delicious – the kind of frosting you might want to eat with a teaspoon out of a shot glass if you have a sweet tooth. It's delicious on coffee cakes too – for a full size cake (frosting and filling, double this recipe)
75g cream cheese
25g butter
1/2 tbsp maple syrup
1/2 cup confectioners (icing) sugar
½ tsp good vanilla
½ tsp cinnamon
 
Make sure the butter and cheese are at room temperature, then cream them together in the mixer until soft and smooth (or by hand, but it's going to take 5 mins of mixing)
Add the vanilla, cinnamon and maple syrup and stir to combine
Sift in the icing sugar and mix until incorporated into a thick spreadable paste – if it's too hard, add a few drops of milk
Spread over the cake

If You Can Make That You Can Make This
Decorate the top of the cake with walnuts or pecans
Add a handful of walnuts to the batter
Or pecans
Or dried cranberries
Use the icing to top a coffee cake
Or try this spiced apple loaf cake
Or be adventurous and try one of these cakes