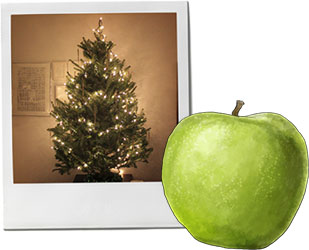 "So it turns out," said Rachel as we gossiped during the choir Christmas Concert rehearsal break, "that I am someone else's Naked Neighbor."
I suppose logically it stands to reason that if most New Yorkers have a neighbor who they regularly see with no clothes on – see Pants Man, for example (Ok, not see literally) – that most of us must also wittingly or unwittingly be the naked neighbor for someone else.
"Because we're on the top floor I didn't think anyone could look into our room, so I never bothered to buy curtains. And I was getting dressed and looked out of the window and there was a women in her kitchen over the road, looking straight up at me. I had this moment where I didn't know if I should wave or put my clothes on first."
But all of this voyeuristic New York wall paper alters at Christmas.
Why? Because the windows are filling up with decorated trees that mask the view.
Looking out of my window, I can count a dozen – Jon thinks 20 – trees covered in lights. Like a giant living Connect Four grid gradually turning golden as night falls.
We dragged ours home from a stand in the East Village – bargain trees, discovered last year. 2nd Ave and 4th street ish if you're wondering. Also, handily, just a block away from a 99 cents store where extra glitter icicles and lights can be purchased for a song.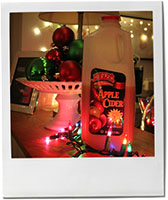 A little over-ambitiously we opted for a 6 footer, then Jon sawed off more than a couple of inches of trunk to get it to fit in the apartment. I put a pan of apple cider on the stove, and for the first time this year, we played carols as we untangled strands of lights.
In our apartment, at least, it's beginning to look and feel a lot like Christmas.
Pork Chops with Apple Cider (serves 2)
This is the kind of slow cooking that makes the house smell enticingly of Christmas. The cider reduces down into a sweet thick gravy, almost like a BBQ sauce – though if you prefer it less sticky, more saucy, just add a splash more water. I use Zeiglers apple cider, which is great value from Gristedes – but any apple cider (or fresh pulpy apple juice if you can't find it in the UK) would probably do – though be careful of too many cinnamon, clove type additions.
I brown my meat and onions first to get out as much flavor as I can, but, honestly, I don't taste a very big difference between that and when I simply put everything in a dish and bake, and on busy days, that's exactly what I do.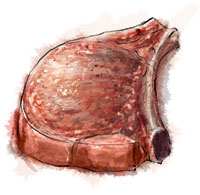 2 bone in center cut pork chops
2 Granny Smith apples
2 cups apple cider
1 onion
1 sprig rosemary and a couple of sage leaves tied together with string or put in a pop sock (optional)
Olive oil
Salt and pepper
Water
 
Pre heat the oven to 300f
Ideally: Season the pork chops and fry to brown (a couple of minutes each side), remove from the pan
Slice the onions and fry until soft (about 10 mins on a gentle heat)
Slice the apples. Add to the onions. Put the pork chops back in the pan, pour in the cider and water to cover and put in the rosemary / sage packet if using
Or: slice the onion and apple and put everything in an oven proof dish, adding as much water as you need to cover the chops
Cover tightly with foil and bake at 300 for 3 hours, turning the chops over half way, and topping up with water to keep them just covered if necessary
Take the foil off, fish out the herbs, and bake for another hour for the sauce to thicken down, turning the pork chop over half way through so the top doesn't get hard
Serve with bread or mash to soak up the sweet gravy