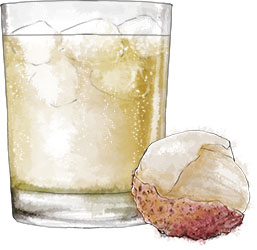 As Sneak Like A Ninja Day creeps closer and closer it's easy to feel overwhelmed; am I prepared? Am I ready?
The good news? There is still time. But December the fifth is coming. Act now. Think ahead. Don't let Sneak Like A Ninja Day take you by surprise. Preparedness is key.
Take a moment to consider the party feast. Dig out some delivery menus for sushi (for the Ninjas) and pizza (for the Ninja Turtles), stick them to the fridge with magnets. Now you're ready. Feels better, no?
While this is pretty much everything that is required to celebrate Sneak Like A Ninja Day, optional extras can include:
Ninja movies to play in the background
Bowls of rice crackers and steamed edamame for sneaky snacking
Sneaking
A lot of alcohol
And that's where this cocktail comes in.
In previous years I have been a slave to the notion of a lychee martini. The first year I made them the sweet syrup from the canned lychees seemed to sneakily trick people into thinking that they were not drinking pure vodka. A guest actually ended up in the wrong city having passed out on the train ride home.
Now, many test runs later, I have a lychee martini recipe that will do the business and not actually endanger people, and I recommend it. But to ring the changes I am turning to tequila for this year's party.
Lychee Fizz (makes a jug-full – 8–10 glasses)
1 can lychees
Tequila (about a cup full)
2 – 3 lemons
Bottle of ginger ale
 
Strain the lychees, saving all the syrup. Freeze the fruit to be used as ice cubes later
There should be about 1 cup of syrup. If there's a lot more, discard it. Pour this into a pitcher
Add roughly the same amount of tequila, then squeeze in the lemons (there should be about 1/3 cup juice)
Chill until ready to serve
Add the frozen lychees and some additional ice cubes, then top up the pitcher with ginger ale and stir everything well to combine
Other Sneak Like A Ninja Day appropriate drinks:
A tsp of lychee syrup (from a can of lychees) topped up with prosecco
A tsp of lychee syrup topped up with soda water
Or lemonade
Or used in place of the Grenadine in a Shirley Temple
Abandon the lychee thing altogether and go with sake
Or Japanese beer
Or both