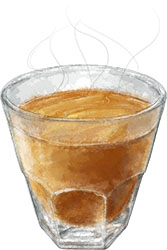 Hot buttered rum is a state of mind as much as it is a drink.
It evokes Christmases of nostalgia – the kind of drink we can imagine Dickens holding in one hand while writing Christmas Carol with the other. It's what people are surely drinking off screen in It's a Wonderful Life. Or what's been making Dean Martin sound so happy when he sings "it's beginning to look a lot like Christmas."
If a Rudolph mug exists in your cupboard – a penguin mug in my case – now is the time to use it.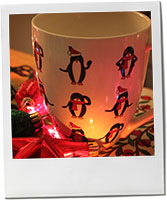 The butter mixture can be made in advance so that lots of drinks can be prepared at once for a party, or you can make one single perfect glass just for you.
1 tsp butter
1 tsp brown sugar
Pinch of cinnamon
1 measure dark rum
Hot water
 
Mix the butter, sugar and cinnamon together and drop into the bottom of a mug
Add the rum, then top up with hot water
If You Can Make That You Can Make This
Add a tiny grating of fresh nutmeg to the butter mixture
Add a couple of cloves to the glass
Or a star anise
Use a cinnamon stick stirrer
Add a tsp of cream
Hold a red hot skewer in the mug (being careful not to touch the side or the mug may shatter) to caramelize the rum – this is an old campfire trick apparently – and certainly worth trying – the drink tastes darker somehow, more caramel and complex