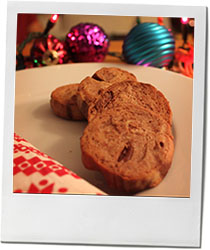 Christmas baking can feel like a step too far sometimes. Too pressured to be any fun– a source of work rather than a source of joy.
That said, I do try to carve out some time for it in the weeks leading up to Christmas, and if I can find an unhurried half hour to spend pottering about in the kitchen listening to some carols on the radio, then I consider it a pleasure.
When I was about 8 years old, our class was split into groups allowed to go bake with some parent-helpers in the school dining room. We'd all have a turn at measuring and mixing and scooping and icing. Then, best of all, we got to eat our creations during afternoon play, to the envy of all onlookers.
I remember this being one of those really fun bits of school, along with being in the Christmas play, or doing cutting and sticking or story-time, or learning the banjo song. I remember how much we all looked forward to it being our turn to create a batch of fairy cakes or an iced biscuit.
So there's nothing like baking to remind me of why I liked cooking in the first place, and in a season where we all end up cooking a lot, and some of it more out of necessity than desire, this is important to remember.
These are the kind of cookies to make when the heart is willing but the schedule may not be. They take 15 – 20 minutes of your time, time pleasurably spent, then then go in the fridge. From there, they can be sliced and baked whenever the desire for a cookie arises.
Yes, you are the person who offers people who drop round with Christmas cards a freshly baked cookie. Yes, this must be what it must feel like to be Martha Stewart.

Double Chocolate Chip Slice and Bake Cookies
This is a classic cookie dough, based on a Martha recipe clipped from a Christmas magazine, but the method – very different – owes a lot to the Momofuku Milk Bar cook book.
The key to well baked cookies is to use slip mat or baking parchment and a good quality cookie sheet or half baking pan. If you find that your cookies are burning underneath before they're cooked on top, you can flip them over half way with a spatula, though honestly, make life easy on yourself and bake perfect cookies every time by investing in the slip mat baking pan option. It's incredible what a difference it makes.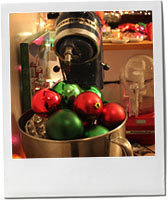 1 cup sugar
2 sticks butter (room temp)
2 2/3 cups flour
1 large egg (room temp)
1/3 cup good quality coco powder
2 tsp good quality vanilla essence
1 tsp baking powder
pinch of salt
1 cup chocolate chips
 
Beat the butter and sugar on high for 3 minutes until fluffy
Add the egg and vanilla, mixing gently until incorporated. Then beat the mixture for 5 minutes on high
Reduce the speed to low and add the flour, coco, salt and baking powder in three batches, scraping down the sides of the mixer between each batch
Add the chocolate chip and mix to incorporate
Tip the dough onto a surface and bring together into a ball. Slice into quarters and roll into 4 fat logs. Wrap these in plastic wrap and refrigerate for at least 2 hours until firm (will keep for a week)
Preheat the oven to 350f
Slice into 1 cm cookies and bake on parchment for 12 – 14 minutes depending on the thickness of the cookies

If You Can Make That You Can Make This
Use a mixture of white and dark chocolate chips
Add half a cup of chopped nuts
Use half a cup each of dried cranberries and white chocolate chips
Spread with nutella for a decadent treat
Roll the cookie log in crushed nuts, sugar or coco powder
Make vanilla cookies by using 3 cups of flour and no coco powder
Turn vanilla cookies into spice cookies by adding 1 tsp cinnamon, 1/2 tsp ginger, and 1/4 tsp nutmeg
Turn vanilla cookies into citrus cookies by adding 1 tbsp lemon or orange zest (or both)