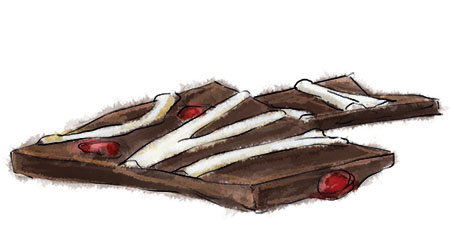 The Christmas tree is basically one strong draft away from mulch.
Shut the door too fiercely, sit down on the sofa with too much gusto, walk within a yard of it, god forbid, sneeze near it, a light pattering of needles shower down to the floor.
It looked so promising a week ago, green, fragrant and bushy. And now? Well, crispy and a bit khaki, frankly.
That said, in the dark, with the lights twinkling, it looks just about fine. So when people come over pre-Muppets for dinner and snacks, the apartment is in semi darkness, candles and fairy lights. Highly flattering to complexions and pine trees.
Avoiding all tree puns, onto chocolate bark.
It's one of those easy treats to make that welcomes festive exuberance and creativity – think of the recipe as a proportional guideline, and use what you like. Two notes though; firstly, your bark is only as good as your chocolate, secondly, melt the chocolate gently at a low temperature. Chocolate that is melted too quickly goes cloudy. If you have a microwave it really comes into its own here – chop the chocolate, melt half, then stir in the other half – the residual heat should melt it too – give it a few more seconds if not.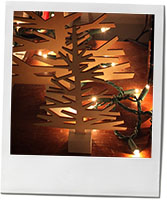 1 lb dark chocolate
¾ cup dried cranberries
¼ lb white chocolate
 
Melt the dark chocolate gently, either in a microwave or in a bowl over simmering water
Meanwhile, line a baking tray with parchment, leaving an overhang at both ends (makes it easier to lift out later)
Pour the chocolate into the tray and scatter over the cranberries. Let this stand for 15 mins until pretty firm
Melt the white chocolate, then use a fork or teaspoon to drizzle it over the bark
Refrigerate until firm – about an hour – then break into shards
If You Can Make That You Can Make This
Add a handful of pistachio nuts to the brittle along with the cranberries
Instead of the cranberries use salted peanuts
Or pretzels
Or crushed graham cracker and mini marshmallows
Or crushed peppermint candy canes
Use white chocolate for the bark base and top with chopped dried apricots and pecans
Or freeze dried strawberries