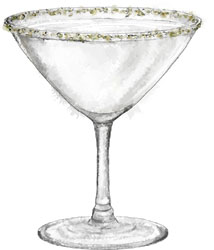 January is a time for reflection, resolution, change, expectation, tentative starts, running out of steam, postponement, utter failure, despair and drinking. A time when we make lists about the things we intend to change about ourselves and enumerate our shortcomings and flaws. A time when we grasp for inspiration and insight wherever we can find it. A time when quotations on mugs profoundly speak to us.
Some years ago Jon's mother sent him a magnet which read; "What would you do if you knew that you could not fail?"
It was January, so this idea resonated with me as I stuck it up on the fridge. What Would I do if I knew that I could not fail? I considered the conundrum long and hard. Eventually I decided; I would not be nervous auditioning for a new choir.
I went to the audition. Was not nervous and got in. It was a miracle of epic proportions. It was basically a spell. How much better would my life have been if only I had owned this magnet sooner?
I headed home, full of achievement, earnestness and no irony whatsoever. "What would you do if you knew that you could not fail?" I asked my husband.
He nodded and thought for a moment.
"Fly" he said.
Moments like these require drinks like these.
Fig Martini (makes 6 drinks)
I first drank fig martinis at a cookery class in Istanbul.
We were making stuffed dried figs to go with the fierce Turkish coffee that is routinely served at the end of meals, and the syrup by-product forms the base of this cocktail. If you want to do double duty, pull the top of each fig (the tip) up to make it more fig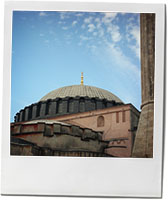 shaped, less disk shaped. Cut a small slit in the side and poke in a walnut half. Press the edges together and proceed.
It's epiphany on Friday, the official end of Christmas when the wise men arrive from the East and shut the party down. The tree will be put away. The lights will be untangled. The baubles will be boxed up. The strings of cards will be pulled down. I will spend an hour or two sweeping up needles. This drink will help.
12 dried figs
2 cups sugar
2 cups water
1 cup vodka
1 cup ice
½ cup crushed pistachios (you can buy them finely crushed, almost like a powder in Middle Eastern shops, or crush them yourself in a processor)
 
Heat the sugar and water in a small pan until the sugar dissolves
Add the figs and simmer gently for 15 to 20 minutes to make fig syrup. Take out the figs and chill
Pour the pistachios into a saucer. Wet the rims of the glasses with water, then turn in the pistachios to rim the glass
Pour the syrup and vodka into a pitcher and add the ice. Stir and serve in martini glasses
You can make a long version by adding soda water.
Roasted Fresh Figs with Parma Ham (per person)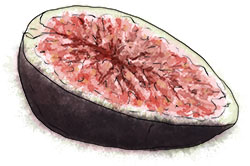 1 fig
1 slice of parma ham
1 teaspoon balsamic vinegar
1 tsp olive oil
salt and pepper
 
Quarter the figs lengthways
Sprinkle with balsamic vinegar.
Cut parma ham into 4 ribbons. Wrap each quarter in parma ham and secure with a cocktail stick.
Bake at 400f for 7 mins until hot and lightly caramelized.