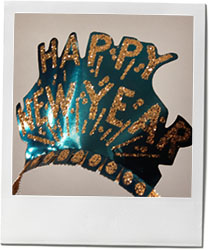 Back in New York on the cusp of a New Year brimming with possibilities, Jon and I headed more or less from the airport to a party in Brooklyn hosted by our friends Shea and Raphael with their adorable sausage dog James, dressed in a furry collar that jingled whenever he moved his head.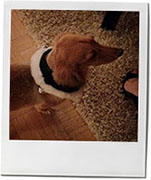 Half incoherent with jet lag, we ate canapés, drank champagne, which may or may not have helped, and chatted as the countdown to the end of 2011 grew closer. Inevitably conversation turned to life inventory and resolutions; promotions, moving to apartments without damp, a wedding, a birth, a diet, a plan to run a marathon.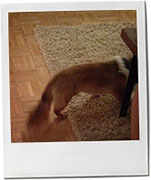 As the clock struck 12 and the ball dropped in Times Square people put down their food for a moment to chink glasses, hug and clash Happy New Year hats. Out of the corner of my eye I spotted James moving determinedly around the room hoovering up slow cooked lamb sandwiches from abandoned plates. A dog in need of no life make over. A dog with everything that he could want, and happiness in his grasp.
Penne with sausage and ricotta (serves 4)
This dinner feels very old school red and white checked table cloth Italian. The kind of food that warms and comforts, crying out for a bottle of red wine and an evening in with a Christmas present DVD box set.
I don't know about you, but for me, it's good to be back to spice and pasta after two weeks of meat and potatoes family cooking, though, believe me, I enjoyed every mouthful of it!
The addition of fresh fennel to the sauce was suggested by the River Café Green Cookbook. I'm not a big raw fennel fan, but cooked , it brings a subtle anise flavor, which works well with the fennel seed that's in most spicy Italian sausages anyway.
If you can't find spicy Italian sausages, and in the UK they're not so easy to come by, use regular sausages and add a tsp of toasted crushed fennel seeds and a tsp of paprika
350g penne
4 spicy Italian sausages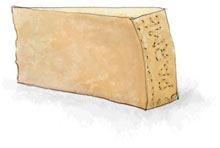 1 small can chopped tomatoes
1 onion
2 cloves garlic
1 fennel bulb
1 tsp sugar
50g Parmesan
Olive oil
150ml red wine
100g ricotta
 
Fry the onion and fennel in the olive oil until soft
Take the sausage out of the casing and crumble into the pan. Fry until slightly colored, then grate in the garlic
Add wine, tomatoes and sugar, season well then simmer for ten minutes, breaking up the tomatoes with a fork
Cook the penne in boiling salted water until al dente (usually about 1 min less time than the packet suggests). Drain and add to the sauce. Stir to combine and let the penne soak up the flavors
Toss with the Parmesan, then spoon into warmed bowls
Dollop some fridge cold ricotta cheese on top and drizzle with some extra virgin olive oil