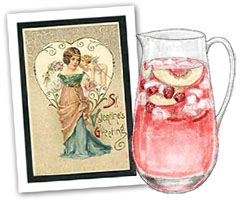 Several years ago I wrote a series of interviews about people with highly alternate world views for a fashion-y glossy magazine. A woman who had been abducted by aliens and given birth to alien babies, for example. A man who thought he was a 200 year old vampire, and who obviously, would only meet me at night.
One of these people – one of the least creepy and most downright charming – was The Love Witch.
"I think love spells are the step between belief in magic and psychological influence. Spells are you giving yourself the energy to bring good things to you."
To my mind, a skeptical Methodist-moulded mind, this doesn't sound too outrageously way out – if The Love Witch had written a book, wouldn't it be basically The Secret?
Sadly, the magazine folded (quelle surprise!) before her wisdom could be published, so I'm going to pass on some of her top tips – some, oddly practical – here in case they are of interest.
Wash the floors of your house with rose water to open it to love
Keep a crystal in your pocket – rose quartz for love or citrine for affection
Rub two pink candles with lavender and rose oil. Meditate while the candles burn out, focus on what you are looking for.
Be specific. If non vegetarian is a deal breaker, say so. The universe is not a mind reader.
Not too specific. Brad Pitt has free will. You can't do anything about it. Don't waste your time.
Rose Sangria Love Potion (makes a jugful – about 6 glasses)
This is a full on Valentines love potion; rose for pinkness, prosecco for sparkle, raspberries, strawberries, peaches and rose petals. Â The perfect thing to drink with a group of girlfriends while discussing other peoples' love lives.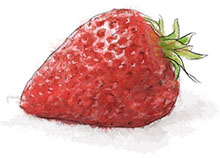 1 bottle rose wine (well chilled)
½ bottle prosecco
½ pint fresh raspberries
½ pint fresh strawberries
1 cup edible flowers – rose petals ideally
1 green apple or ripe peach if you can get it 
¼ cup peach syrup (from a can of peaches)
 
Slice the strawberries and apple and drop into a jug
Pour over the cold rose wine and top up with the prosecco. Add the syrup to taste
Garnish with fresh pink rose petals