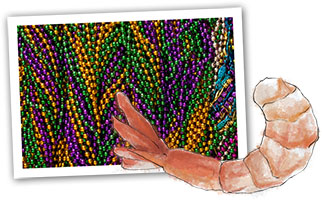 As Mardi Gras approaches, thoughts turn to beads, then to breasts, and then to jambalya. Yes, sometimes I wonder about my thought processes too.
A few of my friends fondly recall a trip to New Orleans for the festival back when they were in college.
"I had so many strings of beads round my neck I got a rash."
"God bless string bikinis."
It is the middle of winter here in NYC. A mild winter so far to be sure, but not exactly string bikini weather. Nevertheless, the guy who runs the bodega on my block has been excited about the possibilities of Mardi Gras for weeks now. As well as selling flowers, milk, chocolate, lottery tickets and cigarettes, he stocks strings of shiny beads in every possible color combination, next to a sign that reads "Please note, we are a shop. If you take off your shirt we will not give you free beads. But we will be happy."
Beads, breasts, and now, jambalaya:
Jambalaya (serves 4 – 6)
This is an easy version of the Louisiana classic. My first shortcut is to use shop bought stock – though if you want to make your own, poach a chicken in hot water with an onion, carrot, bay leaf and a few peppercorns. Use the meat from this chicken and strain the water to make the stock.  My second is to use Old Bay seasoning, a spice mix that includes celery seed, mustard, pepper, bay, cloves, allspice, ginger, mace cardamom, cinnamon and paprika.
8 chicken thighs or 4 chicken breasts
1 medium onion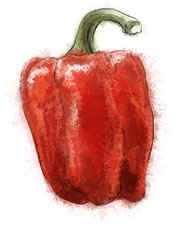 1 green pepper
1 red pepper
4 stalks of celery
2 cloves garlic
1 lb andoui sausage
2 cups chicken stock (store bought)
1 tin chopped tomatoes (14oz)
1 cup long grain rice
1 tsp Old Bay seasoning –
Olive oil
Salt and pepper
Optional – 3 shrimp per person
 
Chop the chicken into bite sized pieces. Season well with salt and pepper, then fry (ideally in a Dutch oven style pot) until golden – about 5 minutes
Meanwhile, dice the peppers, the onion and celery, and slice the sausage into bite sized disks
Tip the vegetables and sausage into the pot and cook for 3 – 4 minutes until the onion starts to brown and the sausage colors
Grate in the garlic, and add the rice, turning in the oil to coat (you might need to add a splash more oil). Add a scant tsp of Old Bay seasoning, a little more salt and pepper, the stock and the tomatoes
Simmer everything for 5 minutes
Clamp on a tightly fitting lid – if your lid isn't, layer foil under it. Turn off the heat and let everything sit for 30 mins, by which time, most of the liquid should have been absorbed and the rice should be close to cooked
If you're using shrimp, make sure they're cleaned and de-veined, then lay them over the top of the rice with a little drop of olive oil on each one. Season well. Clamp the lid back on and put the pan on a very low heat for 5 mins until the shrimp are pink and cooked through.
If you're not using the shrimp, put the rice on a very low heat for 5 mins to finish the rice and keep everything hot
If You Can Make That You Can Make This