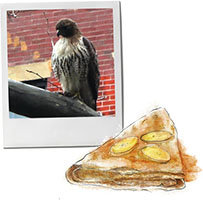 It was a perfectly ordinary Saturday – coffee, grocery shopping, manicure – until the hawk showed up. Soaring down from the sky to perch in a tree opposite Morton Williams.
People stopped to stare at the enormous bird as it preened a little and bobbed its head as though dancing to an internal soundtrack of Walk like an Egyptian.
Incidentally, I have a friend who makes a conscious effort every morning to set a soundtrack to his day. The actual music can vary, though mostly it's the theme song from The Magnificent Seven. "I am the star of the movie of my life," he says. "You are a supporting player or maybe a featured extra – it's hard to tell at this stage. Ask me again when we're 60." In spite of this, we are friends.

Meanwhile, back at wildlife central, quite a crowd had gathered. "Are you looking at a celebrity?"
"No it's a bird. Up there."
"OK. Cool."
We marveled, capturing the bird on camera phones, as it did, well, basically, nothing. Out of nowhere, two women appeared with the kind of telephoto lenses most usually associated with catching naked celebrities sunbathing on private islands from distant motor boats. They clicked away as feathers ruffled in the wind.
"I'm bored" said a kid after a few minutes of this.
"Have you any idea how rare it is to see a red tailed hawk in the middle of Manhattan?" admonished his Mom.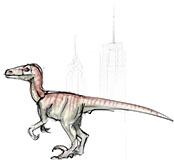 "Rarer than a dinosaur?" asked the kid.
And then a taxi back fired, the hawk opened his magnificent wings and soared back into the sky, wheeling up past Subway, up over Washington Square Park, and away.
Pancakes Bananas Foster (serves 2)
In my mind this recipe fall somewhere between pancake day and Mardi Gras – traditional bananas foster meets French crêpes – a kind of banana rum crêpe Suzette if you will. They are especially good served with vanilla ice cream
2 tbsp butter
¼ cup light brown sugar
2 bananas (slightly under ripe)
¼ cup dark rum
4Â pancakes
 
Melt the butter and sugar together in a frying pan until bubbling
Slice the bananas into 2 cm coins and add to the caramel mixture. Cook for 2 minutes, spooning over the sauce as you go
Lay 2 pancakes folded into quarters on each plate and spoon the bananas over the top
Off the heat pour in the rum and use a long handled match to set it on fire. Once it stops flaming, pour the sauce over the bananas and pancakes
If You Can Make That You Can Make This
Soak a handful of raisins in the rum and add to the mixture
Add a tbsp of banana liquor to the caramel
Dust the bananas with ½ tsp of all spice and a ¼ tsp of nutmeg
Try making crêpe Suzette
Or plain pancakes
Buttermilk pancakes (with peach compote)
Or pumpkin spice scented pancakes with an apple maple compote