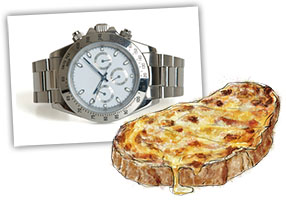 "He'll be late," said the girl to her friend as they teetered down the Bowery in front of us on Saturday night. "He always is. I mean, seriously, how many $1000 dollar watches has this guy lost?"
Well it made us wonder. You'd think losing just the one $1000 watch would be one too many.
"If he'd only lost one," said Jon with razor sharp logic, "she would have said something like "he lost a $1000 watch, you know," not "how many $1000 watches has that guy lost?"
I agreed; "that certainly implies more than one. Actually, I think it implies more than two, or she'd say he lost two! Count em, TWO $1000 watches."
"Exactly", said Jon. "It might imply THREE plus at least! I think you have to lose more than three to get the reputation of being That Guy Who Loses $1000 Watches Unspecified Number."
It was a good point, well made.
But no amount of $1000 watches will get you up on time in the morning if you forget that the clocks changed, as I have on more than one occasion, suspended between British time change conventions, backed up by my British date planner, but expected to be at my American job on time a week earlier.
Thank you, Spring Forward.
Welsh Rarebit
Welsh Rarebit is basically a fancy cheese on toast, a very British version of the French classic, Croque Monsieur. It's exactly the kind of easy to make comforting food that I crave we are plunged back into darkness in the evenings.
If you're gearing up for St Patrick's you can make this with Guinness. I'm not sure how culturally appropriate that is, but it certainly tastes good
2 slices of bread
A cup and a half of grated cheddar (something sharp)
1.2 stick (about 60g) butter
2 tbsp flour
½ cup dark ale
Worcestershire sauce
 
Put the butter and flour in a small pan and heat for a few minutes until the butter has melted and the flour has had a chance to cook out.
Add the ale and cheese and cook over a low heat until the cheese melts into a lumpy sauce
Toast the bread and preheat the grill (broiler)
Pour the cheese sauce mixture over the toast and grill / broil to brown the top
Sprinkle with a few drops of Worcestershire sauce
If You Can Make That You Can Make This
Add a tsp of mustard to the mixture for a kick
Or a tsp of cayenne pepper
Or try making Croque Monsieur