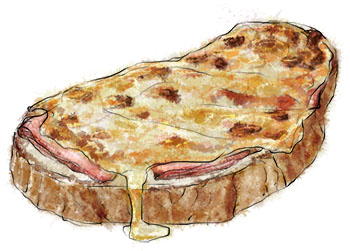 Bastille Day is almost upon us, which – ever happy to appropriate other peoples' cultural celebrations in the cause of good food – I like to mark with some proper French cooking.
When I was 14 or maybe even 13, I was matched up with a penpal called Julie. We wrote to each other for a couple of months, then I and went to Paris for the first time in my life to stay with her family. 
Her mother was apparently a pretty famous theater director, her father, apparently, a pretty famous movie director, and they lived in a bohemian Left Bank apartment covered in art and velvet fringed shawls and chandeliers and the like.
Julie spoke perfect English, asking me questions that were well outside my own knowledge of the language; "So, Katherine, what exactly is the difference between the metaphor and the simile?" She was beyond sophisticated, tripping around the city dressed in black drainpipe jeans and heavy silver chains and what I suspect now to have been her mother's Chanel handbag.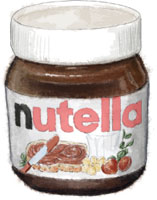 Her parents were busy working, and trusted Julie to show me the sites, handing over a credit card and telling her not to go crazy. Amazingly enough, we did in fact go to see the sites, even taking a guided tour around the Louvre, and we didn't go crazy with the credit card, stopping only for Nutella Pancakes for lunch, and Croque Monsieur at one of those marble-tabled pavement cafés that ought only exist in Gigi.
"You'll like it," said Julie, "it's very much like your English toasted cheese sandwich". I did like it. But it was not very much like your English toasted cheese sandwich. Enveloped in rich velvety sauce, bubbling with Gruyere, it was one of the most delicious things I had ever eaten. And sitting there at that table café while Julie looked archly over her dark glasses at cute guys lounging by their motorbikes and telling me about why she thought Pinter had a great sense of humor, the difference was suddenly crystal clear to me. I was a toasted cheese sandwich. She was Croque Monsieur. (Which, I now know, is a metaphor.)
This is what I made last Bastille Day when Paddy, Jess, Wendy and John came over for dinner on the roof. It's a really, really good Monday treat.
Croque Monsieur (serves 4)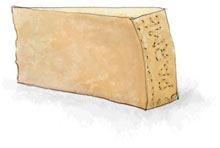 1 tbsp butter
1 ½ tbsp flour
1 cup milk
Pinch of nutmeg
2 cups of Gruyere cheese
¼ cup Parmesan cheese
4 large, thick slices of bread (crusty white or sour dough)
 4 – 8 slices of ham (enough to cover the bread)
Dijon mustard
Salt and pepper
 
Pre-heat the oven to 400f
In a small saucepan, heat the butter gently until melted, then tip in the flour and stir with a wooden spoon for about 2 mins (it should form a paste)
If you have a microwave, use it to heat up the milk, or use another pan, or live slightly dangerously and don't bother at all. Pour the milk into the flour and butter mixture in three batches, whisking fairly vigorously to combine. Cook this sauce until it starts to thicken (you should be able to draw a line down the back of the spoon and for it to stay there)
Add the nutmeg, some salt and pepper, and half the cheeses. Stir until they melt into the sauce
Toast the bread in the oven for about 3 mins per side, then spread with some mustard and top with the ham. Pour over the sauce and top with more cheese
Bake for 5 minutes, then broil until the cheese starts to bubble
Serve with a bitter green salad dressed with a sharp mustardy vinaigrette (2 tsp white wine vinegar, 1 tsp Dijon mustard, pinch of salt, 1 ½ tbsp olive oil)
If You Can Make That You Can Make This
Now you've made one cheese sauce, try another – make this mac n cheese
Or this truffle mac n cheese
Top the Croque Monsieur with a fried egg to make Croque Madame
Take out 2 tbsp of milk when making the sauce and replace with dark beer and a splash of Worcestershire sauce. Use cheddar instead of Gruyere and you have a version of Welsh Rarebit