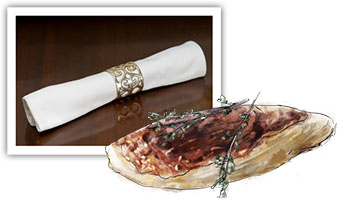 There are times when we all want to make a good impression. Look like our best selves in a good light on a good hair day, be at our smartest, our wittiest, our most charming. Or, failing that, simply not screw things up.
Off the top of my head, a few such instances; at a job interview, on a first date, when meeting a much admired celebrity in a restaurant bathroom.
My cousin Richard recently went to Ireland to meet his girlfriend Claire's family for the first time. Her mother painted the house and redecorated before he arrived.
Sometimes, dinner has to do this job for us. We set ourselves up for it: we will be breezy and confident, make kick-ass food and be widely admired as a genius hostess. I'm not recommending that we put ourselves under pressure like this, but we do, and there must be ways to cope.
First off, expect success, but plan for failure. It's a good idea to have the wherewithal for a back up meal to hand– a jar of olives, a bag of green salad, a box of linguini, some pancetta, some bread, a tub of ice cream.
Then find a menu that can be cooked in advance. No messing.
Dessert? Done in advance. Chocolate pots. Brownies. Fruit crumbles in individual ramekins. Chocolate cookies. A bowl of fresh fruit. A bunch of grapes and a ripe brie. A stilton and a bowl of pears. A dish of pick n mix penny sweets. Vanilla ice cream to make affogato.
This is not the night to experiment with souffle. Tonight is about elegance, simplicity and ease. The kind of dinner our best selves would whip up any old day, easy, breezy, like we work at Martha Stewart.
Company Chicken with Lemon and Thyme (serves 4 – for 6 just add a few more chicken breasts)
This chicken dish is easy to make, totally do-able if you get home from work half an hour before people arrive. It cooks in the oven out of the way. You tip a bag of baby spinach into a salad bowl, squeeze some lemon and olive oil over it, and tear up a French loaf or two into a basket. You're done.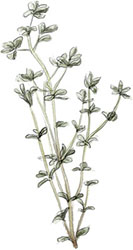 4 skin on chicken breast portions
¼ cup olive oil
4 cloves garlic
½ cup white wine (about a wine glass full)
Zest and juice of a lemon
Few thyme sticks
1 tbsp butter
Salt and pepper
 
Preheat the oven to 400f
Pour the wine, olive oil lemon juice and lemon zest into a baking dish. Grate in the garlic and season
Put the chicken skin side UP into the dish. Season the skin well and dot with butter (if you have butter left over, add this to the liquid
Scatter thyme stalks over the chicken
Roast for 40 mins. Take the chicken out of the oven and let it rest for 5 mins, covered with foil
If You Can Make That You Can Make This
Fancy up the spinach salad by adding grated ricotta salata and toasted slivered almonds
Or go for a green vegetable instead – when you take the chicken out of the oven, put in a tray of asparagus, tossed with olive oil and seasoned well. They should take 5 – 10 mins to roast, depending on the thickness. The chicken can wait happily until they are done.
Or cook some green beans in salted boiling water once the chicken comes out to rest. Toss with a little garlic oil and some slivered almonds to serve
Slice a couple of lemons into wedges and add to the chicken – they caramelize in the heat and you can eat the skins, or squeeze the juice over the chicken
Toss in a handful of black olives to cook along side the chicken – use less salt when seasoning
Serve with orzo tossed in olive oil
Or rice (especially if you have a rice cooker)
Make extra chicken and slice over a simple green salad for dinner the following night
Or try making a chicken tagine with pomegranate cous cous instead – it's also a very reliable and beautiful looking dinner