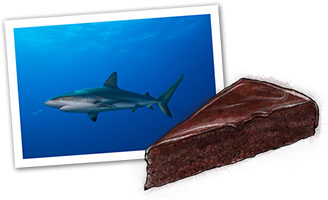 Leaving Gorilla Coffee the other day some friends and I found ourselves strolling in step behind a dad and an eight ish year old kid. The kid took a sip of his drink and let out a sigh. "Life is totally unfair," he said. "All I want is a shark. Just a small one. I really don't see the problem here."
My friend Amy tells me that she was like that for a pony when she was little. It was everything she desired. Â Drawing on this youthful heartache she has devised a concept that she calls The My Pony Problem.
"You know when you have a problem, but most of the rest of the world would kill to have such problems. Like, you're running late to meet a friend at a wine bar because the line in Whole Foods was so long. What you're really saying when you show up and blurt out your excuse is "my pony was a bit sick." So tonight for example, I have to go to a birthday party, but I'd sooner go home and watch Castle. Basically, "my pony is lactose intolerant."
Back in Brooklyn the kid who wanted a shark found sympathetic ears on James. "I wanted a shark when I was a kid," he said. "And my Dad actually got me one. It wasn't exactly a real shark, it was a fish that looked just like a shark. They never grow much beyond 8 inches. You have to keep them in an aquarium, but they look exactly like sharks, and they kick goldfish ass."
The sunny day, the coffee with friends, the shark talk, there was so much to be grateful for. And where there is gratitude to be expressed, chocolate cake usually facilitates.
Chocolate Syrup Cake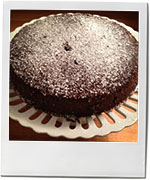 I wanted to make an old fashioned Americana-style chocolate cake for Kim's Mad Men party, and this recipe from Loaves and Fishes, which uses a can of Hershey chocolate syrup, fits the bill. This batter makes for a fairly thin disk of a cake. If this is something that bothers you I suppose you could make two and stack them. It's worth noting that this cake can be made up to a week in advance of you using it if you wrap it carefully in plastic wrap and keep it in the fridge. Ice the day you want to eat it.
The chocolate icing is from an Ina Garten recipe. Once the cake is iced she warns that it should not be refrigerated. I'm not sure quite what this would do to the icing, but I've always heeded her warning and it always tastes delicious.
For The Cake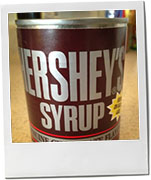 1 cup sugar
1 stick of butter (1/4 pound)
4 extra large eggs (room temp)
1 16 oz can Hershey's chocolate syrup
1 tsp good vanilla extract
1 cup flour
 
For The Icing
 
½ cup cream (heavy)
8 oz semi sweet chocolate chips
1 tsp instant coffee granules
 
Preheat the oven to 325f and butter and 8 inch cake pan (line the bottom with parchment paper too for easy removal)
Cream the butter and sugar until fluffy, then add the eggs one at a time until incorporated
Stir in the vanilla and chocolate syrup, then mix the flour in gently until just combined
Scrape the batter into the tin and bake for 45 mins until it's just set in the middle. My old fan oven took 45 mins, my new non fan oven takes 50 mins, it's best to keep an eye on it
Cool the cake in the pan. Once it's cool turn out onto a rack – put a tray under the rack, or a piece of newspaper for easy clean up
Melt the chocolate chips, coffee and cream together in a bowl over simmering water. Let the icing cool for a few minutes, then pour over the cake, coating the sides and top. Leave to set in a cool place for about 20 minutes, then serve.
Alternatively you can sprinkle confectioners sugar over the cake in place of icing.