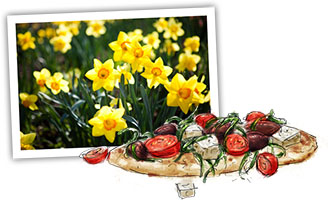 It's Spring in New York – daffodils, blossoms, no need to wear a coat weather, the whole bit. The evening was filled with out on the balcony possibilities and I was determined to make the most of them.
I headed out into the city to forage, returning with avocados for guacamole, chips, olives and some white wine.
Half an hour later, Jon came home apparently having had the exact same thought. His take on Spring drinks? Beer and roasted peanuts.
But either way you celebrate it, winter is behind us, and spring is in the air.
This zesty Greek salad topped chicken – our balcony bound dinner – is a 15 minute kitchen to table supper that sums up a spring frame of mind.
Greek Salad Topped Chicken (serves 2)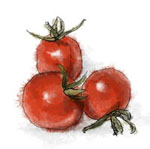 2 chicken breasts
1 pint of cherry tomatoes (a couple of handfuls per person)
½ cup pitted kalamata olives
About ½ cup chopped feta (in large cubes)
Small bunch of fresh mint (about 1 tbsp chopped)
½ tsp oregano
1 tbsp red wine vinegar
2 tbsp olive oil
1 tbsp lemon juice
Salt and pepper
 
Slice the chicken breasts in half horizontally to make two thin slices. Pour over the lemon juice and marinate for up to an hour – but even five minutes will help
Heat one tbsp of olive oil in a large skillet, season the chicken, then cook for 3 to 4 minutes on each side until cooked through. Set aside to rest for a few minutes
Halve the tomatoes and kalamata olives, cube the feta, then stack the mint leaves on top of each other, roll like a cigar, and slice into thin ribbons
Mix up the dressing – 1 tbsp olive oil, 1 tbsp red wine vinegar, the oregano and some salt and pepper (about ½ tsp of each). Pour over the salad
Top the chicken with the salad and serve