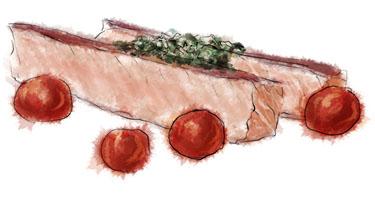 Tables in New York restaurants are often crammed close together, so even though you might be having a romantic evening with your husband you can still listen with ease into the conversations to your right and left as though you were all on one big date.
Now I'm not saying that Jon and I have run out of things to talk about, on the contrary, but after 12 years of dinner together, it's nice to let other people do the heavy lifting now and again so we can sit back, get on with eating, and be entertained.
One such example of dinner theatre took place last Friday night, with a couple who, we quickly established, were in the early stages of dating.
"Tell me about you. I want to know all about you."
"OK," agreed the guy, "here's a thing you probably don't know about me, I have a tattoo."
"Oh, me too," said the girl. "It's a seahorse on my shoulder."
"Cool," said the guy. "Actually, mine's not really a tattoo. Um, so basically, when I was in college I was like a major weed dealer. Major, you know. And I was selling to these Asian gang dudes, a lot of money. I mean a lot. But it took a while for them to trust me. Example? One time, I went over there and one guy pulled a switchblade on me. He was pissed because I'd forgotten to take my shoes off, and that's like, a crime punishable by death in their religion. Anyway, they got over it.
"So I was graduating and leaving for New York, and they were sad to see me go, so they said, hey, we should initiate him into the gang. They gave me a cigar and we were all smoking them, and part of the initiation was that they would all burn me in the arm with their cigars. Well, I was drunk so I thought, what the hell. So it's not so much of a tattoo as a burn scar. I'll show you later if you like."
The girl chewed her salad thoughtfully for a moment.
"You know, I'd like that," she said, smiling suggestively and holding his hand in the candlelight.
Lamb Salad with Herb Pesto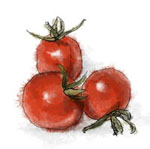 Handful of parsley
Handful of basil
½ cup Parmesan
1 clove garlic
1 cup walnuts
2 tsp lemon juice
2/3 cup light olive oil
2 cups cherry tomatoes
2 300g lamb fillets
 
Preheat the oven to 400f
Season the lamb fillets and place on the roasting tray. Toss the tomatoes with olive oil and salt and pepper, add to the roasting tray and cook everything for 10 – 15 minutes (depending on the thickness of the lamb, maybe even 20 mins), until the meat is pink. Rest under tented foil for 5 mins
Meanwhile make the pesto by putting half the walnuts, the garlic, Parmesan, basil and parsley into a processor. Blend, adding olive oil down the tube until you have a thick paste, check the seasoning and adjust
Slice the lamb and spoon over some pesto. Serve with the roasted tomatoes and some good bread or plain cous cous