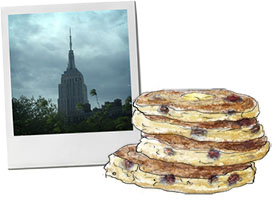 A friend of mine had been to Space Camp as a child and had described the experience as "absolutely no question the best week of my life, made up of the best days of my life!"
"Apart from our wedding day?" prompted her husband.
She gave him a withering look. "Honey, it's clear you have never been to Space camp." So when my cousin Alex was invited to go to Florida and learn about rockets with his friend Oliver, I was beyond excited for him, and promised to meet him on his return to NY, and make sure he caught the plane back to the UK.
Back from Space with the pictures to prove it, Alex and Oliver were full of the experience. They had built and launched rockets, rode in simulators, spun upside down in an anti gravity globe, led a space mission, and won a team prize. In their down time, they'd fished, watched a baseball game and driven go-karts. What New York could possibly offer two ten year olds that wouldn't be a tremendous let down after that?
Oliver's mum Amy had the right idea. Apple products and Lego. The morning was a huge success, but what to do after lunch? My friend Jess had the answer; "Come to my office and I'll show you round."
Normally when people make you an offer like that, it's best to say no as politely as you can, but Jess works in the Empire State Building, so we were there – well, I was there, and the boys were there, and Amy took the opportunity to be child free and drink coffee. Smart lady.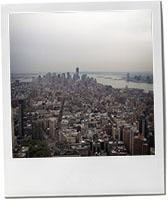 Jess bussed us past the queues and ferried us up to the viewing deck to see New York spread out before us like a giant Monopoly board.
The boys collected quarters and hit the binoculars, while Jess and I caught each other up on our lives. Love, loss, jobs, irritants, ball games, decorating tips – the minutiae of living, against a background that could best be described as epic. Which pretty much sums up how I feel about New York in general really.
"It's almost like seeing the city from Space," I said out loud, not knowing any better. "Almost," agreed Alex as politely as he could. "If the Empire State Building was like a hundred times taller."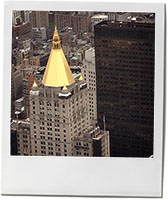 Buttermilk Blueberry Pancakes (makes about 10 pancakes)
We took the boys to a proper American diner, where they had the opportunity to quiz Uncle Jonathan (physicist) who had not finished his first cup of coffee of the morning yet, about all things black hole and cosmic ray related. "How many galaxies are there that you would say are nearby?" The more pancakes he ate, the more he enjoyed this conversation.
My buttermilk pancake is a variant of a Martha Stewart's classic, and the method is pretty much the same, only I cook my pancakes in oil rather than butter, which I always seem to burn before the  pancakes are done.
2 cups of flour
¾ cup blueberries (tossed in a few tsp of sugar if they are tart)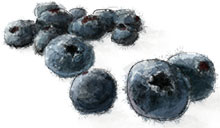 2 tsp baking powder
1 tsp baking soda
½ tsp salt
3 tbsp sugar
2 eggs
3 cups buttermilk
4 tbsp unsalted butter
Vegetable oil for cooking
 
Mix all the dry ingredients together
Melt the butter and add to the buttermilk and eggs. Whisk to combine
Add the wet ingredients to the dry and mix – the batter can be a bit lumpy, indeed, it should be a bit lumpy
Heat the griddle (or frying pan) until a drop of water fizzes and bounces off
Brush with vegetable oil, then spoon out the batter leaving a generous gap between each pancake
When the top of the pancake starts to bubble like lava, flip it over (about 2 mins) and cook the other side for (1 min)
Keep warm in the oven until you want to serve
 If You Can Make That You Can Make This
Make chocolate pancakes – replace 1 tbsp of flour with 1 tbsp of coco powder, and replace the blueberries with chocolate chips
Or try making lemon pancakes – add the zest of half a lemon and a tsp of lemon juice to the plain batter – with or without the berries
Or orange pancakes – add 1 tbsp of orange zest and 1 tsp of orange to the batter
Add a handful of raspberries into the batter instead of the blueberries
Make this peach compote to pour over the pancakes
Or try pumpkin spice scented pancakes with maple apple compote
Or try these crepes (banana foster style)
If you can make crepes you can make spectacular crepe suzette