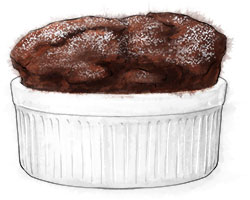 The other Sunday I shopped for a diamond solitaire. Platinum, Tiffany-style band, at least a carat, perfect clarity and color. I looked into the heart of the stone through a tiny magnifying glass and saw it sparkling back up at me.
Following painstaking research in the fancy jewelry boutiques of 5th Avenue – Cartier, Tiffanies, De Beers – Ronnie and I headed for the diamond district, an amazing strip of jewelry importers, wholesalers, manufacturers and dealers that runs between 5th and 6th on 47th Street. Some of the store fronts are jewelry shops where you can select from stunning modern pieces, or gorgeous antiques. Others are divided up into counters like a very expensive flea market, and you can select a stone and a setting and have it turned into a ring before your very eyes. As well as this being incredibly interesting to watch, and giving you a custom made bauble, it's staggeringly less expensive than buying from somewhere with a recognizable name on the box.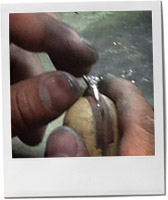 We narrowed it down to two diamonds. Both utterly stunning. Both morally sourced, certified and all that other formal important stuff. The lady behind the counter fitted them into prongs and I balanced them on my fingers. "What do you think?" I asked. "They're both perfect. How are you going to choose?"
"I'll take the bigger one," said Ronnie. And later that night, Karen said yes.
For those of us without diamonds to offer to our loved ones, chocolate soufflé will have to do.
Chocolate Souffle (makes 6 – 8 individual servings, depending on the size of the ramekins)
There's a mythology about soufflé that they are difficult to make. I'm not really sure what the fuss is about – especially if you have some kind of electric beater for the egg whites. In an ideal world you'd whip the egg whites just before making the soufflé, but if you made them a little in advance and baked them off just before you want to eat them, well, what's the worst that can happen? They won't rise quite so triumphantly? You still have warm fluffy chocolate puddings.
A few things: use room temperature eggs to get good stiff peaks. Wipe the mixing bowl with a cut lemon to make sure it's spotlessly clean from grease which kills volume in egg whites. Don't open the oven door or they'll flop.
200g good quality dark chocolate
75 ml milk
4 egg yolks
60g sugar (superfine or caster ideally)
6 egg whites
75g sugar (superfine or caster ideally)
A few tsp sugar and a slick of butter for the ramekins
Icing sugar or coco for dusting
Cream to serve
 
Preheat the oven to 350f
Butter 8 ramekins and sprinkle with a few tsp of sugar. Shake the sugar around to coat the sides and base, then tip out excess
Melt the chocolate very gently in a microwave or bain marie. Cool, then add the milk and stir gently to combine
Beat in the egg yolks and the 60g of sugar until incorporated
In a clean bowl, whip the egg whites until stiff, then gently add the 75g of sugar until incorporated
Stir a spoonful of the egg whites into the chocolate and mix to loosen up the mixture, then fold in the rest of the egg whites. Fill the ramekins and level off the tops
Bake for 18 – 20 minutes depending on the size of the ramekins, until risen and stiff
Dust with coco or icing sugar and serve with a jug of cream to pour in