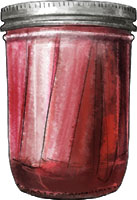 Of all the tiny triumphs and tragedies of growing things out on the balcony, the fact that the rhubarb sprouted then promptly died is probably the one I took the hardest. And with only a week or two tops left of rhubarb season, I'm determined to take advantage of it. 
I love rhubarb in all its incarnations – crumbles, fools, pavlovas, puddings, baked to a puree and stirred into yogurt for breakfast. However you serve it, I'm going to want to eat it. Pickled and on a sandwich? Yes please.
My Mum loves rhubarb too, and would often give my sister and I sticks of it to eat raw, dipped into a ramekin of sugar. Apparently this is bad for your stomach if you eat too much, but then again, it's hard for me to say exactly how much rhubarb could ever be too much.
I've been tinkering around with the idea of pickling it for a couple of years now – enthused by just how easy it is to do, and by just how pretty it looks all pink and uniform in the jar – it's a very satisfying result for half an hour of kitchen pottering.
Essentially, you stuff a very clean jar with vegetables, pour over a mixture of hot vinegar into which you've dissolved sugar and a few flavorings of your choice, then screw on the lid. In a couple of hours you're good to go.
Quick pickles last a week or so in the fridge. If you want to store yours for longer you need to sterilize the jar. In practice, a week or so is about the time it takes me to eat them anyway, so that's long enough for me.  I tend to make small batches of whatever is fresh and seems like a good idea – once you've got the hang of it, it's tempting to pickle everything in sight.
Tart, tangy rhubarb pickles are delicious with some sharp cheddar or some cold grilled chicken, but I think I love them best on top of a turkey burger fresh from the grill.
The proportions here owe a debt to Martha, a woman who clearly knows more than a thing or two about pickles. She uses ginger and cloves as her flavorings, and I tend to use more savory ingredients – here, dill, chili pepper bay and mustard seed. I also love this recipe from New York Magazine which uses rice wine for a light, sour crunchy pickle.
Quick Rhubarb Pickles (Makes 1 large mason jar full)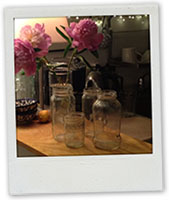 1 ½ cups white wine vinegar
¾ cup sugar
1 tsp salt
½ tsp mustard seeds
1 small red chili
1/2 cup fresh dill
1 bay leaf
1 jar-full of rhubarb cut into thumb sized pieces (about 1/3 Â lb)
 
Pour the vinegar into a pan and add the sugar, mustard seeds and the chili. Bring to a boil, stirring until the sugar dissolves, then boil for 1n minute
Arrange the rhubarb stalks in a clean dry jar, and add the dill and bay leaf. Pour over the hot vinegar mixture and screw on the lid
Cool, then keep in the fridge – the rhubarb will be good to go after about 2 hours, but can be kept for a week
If You Can Make That You Can Make This
Replace the rhubarb with sliced cucumbers
Or carrots
Or a mixture of fresh vegetables
Add ½ tsp of celery seed
Increase the number of chili peppers for more kick
Add pink peppercorns
Or try this rhubarb fool pavlova