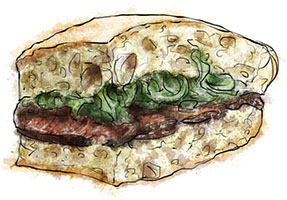 I have a friend who lives in Brooklyn, works as a designer and collects vintage T-shirts. Like it or not, he's what is known as a hipster, and he has the customized converse shoes to prove it. This friend took my husband out for a boys only evening of retro computer games and locally brewed beers at Barcade.
"It was such a great night!" enthused Jon. "We played Frogger. Actual original Frogger. People fly all the way from Japan just to play Donkey Kong and get the high score that they write on a chalk board above the bar."
It seemed that from 7 till 9.45 this bar was packed full of guys. They happily played Galaga, and Tetris, and a game called Timber, where they were lumberjacks and each had to fell more trees than the other – "he totally cheated by dropping trees on my head!" By 10pm everyone had drunk just enough beer to mellow out a little.
That's when the girls showed up.
"Literally dozens of hot girls!" They swarmed into the place at the exact moment when given the choice between another round of  Astroids and a hook up, the guy would probably take the hook up. These were all 30 something guys with the disposable income to mess around on arcade machines and buy craft beer. Odds on, these were mostly the Geeks Who Conquered The Earth – graphic designers, ipad app developers, people who worked at Google, at Hulu, at Gawker Media.
These women had uncovered a rich seam of exceedingly promising dates.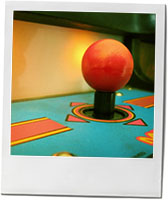 "It was fun," said my husband, back in Manhattan, eyes full of wonder.  "Mostly we talked about Game Of Thrones."
But just to be on the safe side, I made maple marinaded steak sandwiches for dinner.
Maple Marinaded Steak Sandwiches (serves 2)
1 large Hanger steak (1 – 1 ½ lbs ish)
2 bread rolls (I like soft ciabatta rolls best)
1 tbsp maple syrup
2 tbsp olive oil
Salt and pepper
2 tsp smoked paprika
1 tbsp and 2 tsp lemon juice
2 tbsp mayonnaise
Salt and pepper
(2 handfuls of arugula)
Put the steak in a bowl and pour over 1 tbsp lemon juice, 2 tbsp of olive oil, 1 tbsp maple syrup and 2 tsp of smoked paprika. Let everything marinate for half an hour while the steak comes to room temperature
Heat a griddle pan until it is screaming hot
Season the steak well with salt and pepper (lots of salt), then place on the griddle pan. Don't touch it. After 3 minutes, turn the steak over. Don't touch it. Give it another 3 minutes. Depending on the thickness of the steak it should be medium rare by now. If you like it more medium, cook it for longer, for rarer, go for 2 minutes instead
Put the steak on a warm plate, tent with foil and let it rest for at least 5 minutes. Meanwhile, slice the bread rolls in half and toast for a few minutes on the griddle pan
Mix the mayo with 2 tsp of lemon juice and some salt and pepper. Spread this on the bread, slice the steak across the grain and divide between the two rolls. Add some arugula if you feel that it's necessary to eat something green. Enjoy
If You Can Make That You Can Make This