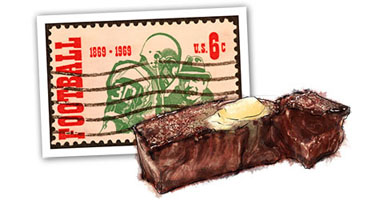 Even among people who generally couldn't give a damn about football. Even among my friends who obsess over things like organic quinoa and sample sale-ing. Even among my friends – alright – one friend specifically – who thought The Giants were a baseball team – the concept of Superbowl resonates.
Both because it's Superbowl and there's a home team to support, but also because it's pretty much illegal Not to be eating Doritos and dip for four hours.
I recently learned some fascinating food facts about Superbowl. Apparently we're going to be eating 4000 tons of popcorn. Think about how light popcorn is for a moment. Yeah. That's a lot of popcorn. We're also going to get through 14,500 tons of chips and a pretty staggering 70 million pounds of avocados, mostly turned into guacamole for dipping purposes.
This kind of ridiculous over consumption makes Superbowl the number 1 eating holiday in America. But, with the best will in the world, turns it into an objectively terrible date night.
So, for the night before may I suggest this classic strip steak?
New York Strip Steak with Bourbon butter (serves 2)
Look for a good quality steak that's at least an inch to an inch and a half thick. It's going to stay nice and juicy, which is what you want here. You're also looking for fat that's nicely marbled through the meat, not all in one thick line cutting the meat in half. I look for 6 – 8 oz portions.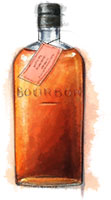 2 6oz – 8oz strip steaks
1 tbsp vegetable oil
1 tbsp butter
Salt and pepper
½ cup bourbon
¼ cup lemon juice
Few shakes of Worcestershire sauce
 
For the bourbon butter
½ cup butter (room temperature)
1 tsp dark brown sugar
2 tbsp bourbon
 
Mix the bourbon, lemon and Worcestershire sauce, and pour over the steaks. Leave to marinade in the fridge for 1 – 3 hours
Meanwhile, make the bourbon butter by mixing the butter until soft, then adding the bourbon and sugar. Dump the butter onto a sheet of plastic wrap, then squidge into a roll. Refrigerate until firm (about an hour)
Take the meat out of the fridge and wipe off excess marinade. Leave the meat to come to room temperature (about half an hour to an hour)
Preheat the oven to 400f, and heat up a cast iron griddle pan (or frying pan or BBQ grill). You need it to be screaming hot, 500f ish, and this takes about 15 mins on my gas hob
Rub the steaks with vegetable oil, then season well (oil then salt, so as not to pull moisture out of the steak)
Drop the meat into the pan and don't touch it. After 5 minutes, turn the meat. Don't touch it. After 5 minutes turn it again (if your steak is closer to an inch than an inch and a half, do 4 mins per side)
Put a knob of butter on the steak and put the pan in the oven. After 5 mins, it should be rare. If you like steak medium, give it another 5 mins
Let the steak rest for 5 mins covered in foil in a warm place before serving with a slice of the bourbon butter on top
If You Can Make That You Can Make This