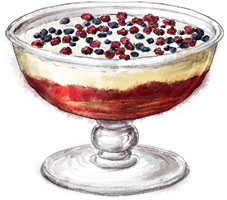 It's the Queen's Diamond Jubilee, and my Mum had a busy schedule planned, full of BBQs, fireworks and street parties.  "Should be fun!!" she texts, and I send her :)s and try not to be jealous. It must be like this to be an American in London on 4th July, and say to people, "But it's July 4th!" and for them to look back at you and say "so?"
So for people who have no idea what I'm talking about, the facts are these: the Queen has been Queen for 60 years. Britains will celebrate by eating cake. And here are some facts for people who totally knew that already:
Since she became Queen, the Queen has given away 78,000 Christmas Puddings
Buckingham Palace has 78 bathrooms
One of the Queen's corgies is called Vulcan
She's owned over 30 corgies during her reign, all of them descended from her first corgie Susan, who was an 18th birthday present
The Queen's website (www.royal.gov.uk) has a 20 most frequently asked questions page. Apparently, the 20th question the Queen is most frequently asked is: what are your green credentials?
And so I carve out a little British envlave in the heart of Manhattan, where bunting, cake, scones, crumpets and tea from a tea pot are the order of the day. Vivat Regina and all that.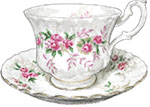 It's practically a patriotic duty to have a proper afternoon tea. After all, if we're going to beat the official Golden Jubilee celebrations, we need to get through more than 160,000 cups of tea, 54,000 scones, and 48,000 slices of lemon and chocolate cake.
And to crown the occasion, a proper trifle – this one decked out in red white and blue.


My Grandma is a Master of trifles. Twice a year she makes a couple of dozen individual trifles to sell at the church market. Many of these are in fact pre-sold before the event to people who know that if they want one, they need to get in there early. She soaks her trifle sponges in raspberry jelly – you make up a jug of jelly, add a few handful of fresh raspberries and once it's cooled down a little, pour it into the bowl over the sponge. Let it set and proceed with the custard business.
Since she hit her 90s, my Grandma has been using Birds Custard powder, or, if she's being fancy, M and S custard in a pot. She tells me that there have been no complaints from the customers at the Upholland Methodist church. Take that as you will.
This trifle serves 6 – 8 people, and is easily doubled for a crowd. It can be made in glasses if you prefer individual portions – which is easier for a buffet line, you just grab and go, though that's less dramatic than a glorious billowing bowl.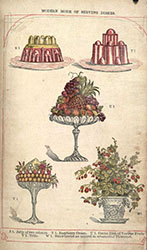 3 egg yolks
1 pint double cream (570 ml)
25 g caster (superfine sugar) + 1 tbsp
1 tsp corn flour (corn starch)
½ a vanilla loaf cake
½ jar good quality raspberry jam
1 cup raspberries
½ blueberries
1 vanilla pod
Dash of framboise (though sherry is traditional) (about 2 fl oz)
 
Slice the pound cake about 2 cm thick, and spread with jam, sandwiching another slice on top. Arrange these cake sandwiches in a glass bowl, scatter ½ cup raspberries on top and sprinkle over the framboise
Pour ½ the cream (that's ½ a pint) into a pan and heat gently until just before boiling point (don't let it boil)
Mix the 3 egg yolks, the 25g of sugar and the corn flour in to a paste, then pour the hot cream over the top. Give everything a good stir, and pour back into the pan. Heat gently, stirring constantly until the custard thickens – this will take about 10 minutes, keep the heat low and be patient
Take the custard off the heat and let it cool. Pour into the trifle bowl and chill
Split the vanilla pod in half lengthwise and scrape out the seeds. Add to the remaining ½ pint of cream along with the tbsp sugar, and whip until thick. Spread over the custard layer. Decorate with the ½ cup of blueberries and raspberries just before serving