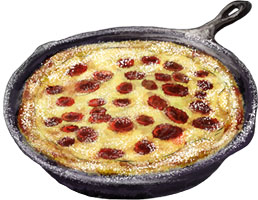 It's a throw back to my childhood, but whenever I eat cherries I line up my pits on the side of my plate and count them up with the rhyme "tinker, tailor, soldier, sailor, rich man, poor man, beggar man, thief." Apparently this is some kind of folkloric way of predicting the kind of man that you will marry.
Now I've eaten a lot of cherries in my time, and none of them came up "physicist," so make of that what you will. A quick poll of my friends highlights the limits of the rhyme. evidently Iphone App developer, Lyricist and Hedge Fund Manager were not considered the marrying types by poets of Yore, (though, thinking about it, "rich man," probably covers at least one of those).
The only friend of mine who married either a tinker, tailor, solider, sailor, rich man, poor man, beggar man, or thief looked at me askance when I started counting cherry pips – she'd never heard of such nonsense. Which is a shame really. Because she was briefly married to a thief, and this might have saved her some grief.
My Mum loves cherries and used to buy bags of them for us to eat in the car as we drove from school to recorder lessons or swimming lessons or drama club or Guides.
"Tinker, tailor, solider, sailor," we'd chant.
"There's another verse," she'd say, "something about getting married in calico or cotton or something …" That did not significantly clarify matters.
Last Summer she visited me in New York where they are on every fruit stand in the city, for the kind of lose change you can rustle up from the bottom of your handbag. We walked up the Highline park with our paper bags full of cherries, chatting about nothing, summer all around us.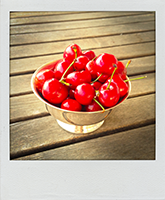 Clafouti
This recipe is adapted from Le Petit Cafe's pear clafouti recipe, featured in Daniel Young's Paris Cafe Cookbook, which I generally read in bed to facilitate dreams of sitting outside a bistro with a glass of lillet watching the world go by. It's a little cakier than some other recipes which is why I love it.
If the thought of stoning 1 ½ to 2 cups of cherries is too much, you could use thawed frozen cherries
1 cup flour
1 tsp good quality vanilla extract
1/3 cup sugar
3 large eggs
1 cup whole milk
½ cup cream
1 ½ cups cherries (enough to fill about a 9 inch baking dish)
2 tbsp sugar (to taste)
2 tbsp kirsch
2 tsp butter
Pinch of salt
 
Preheat the oven to 375f
Stone the cherries – some methods here
Toss them is 2 tbsp of kirsch and about 2 tbsp sugar – depending on how sweet they are already – and let them marinate
Measure the flour and sugar into a bowl, then whisk in the milk, cream, eggs and vanilla. Add a pinch of salt
Butter a baking dish, and pour a thin layer of batter into the bottom. Scatter over the cherries, then cover with the rest of the batter
Bake for 35 – 40 minutes until golden and risen
Serve warm spoonfuls with a dollup of crème fraiche or thick whipped cream
Dust with icing sugar for a pretty, sweet finish
If You Can Make That You Can Make This
Add a tsp of lemon zest to the batter for a citrus scent
Swap out the cherries for stoned apricots. (Technically, this is a "flaugnard" – basically the French word for a clafouti that is not made with cherries.)
Or apples
Or pears (tinned pears work fine)
Or plums
Or blackberries – soak them in liquor for half an hour first for extra boozy flavor
Take out 1 tbsp of the flour and replaced with ground almonds. Add a tsp of almond extract to the batter
Sprinkle flaked almonds on top of the batter before baking (cover with foil half way though if the almonds look like they're catching)