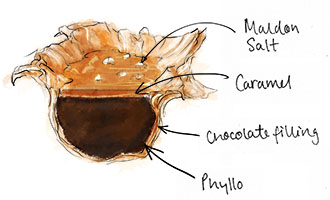 My friends Jenn and Alan have invited us to a pie tasting party. And though I'd like to start a rumor that pie tasting is the new wine tasting in NYC, that's not the case. They're bravely pursuing the dream of owning a food truck, and this is their beta recipe launch.
Jenn and I sat in a cafe while she excitedly told me about the research that she'd been doing. Dreaming big. All the way from markets and street fairs to a bricks and mortar shop, or even, who knows, a chain of shops. It was heady, intoxicating stuff – ambition, passion, action.
My eyes were full of stars when I came home to talk to Jon about it, interrupting him as he worked at the dining room table. What food business would I start if I were brave enough? How would I decorate my stall at the Brooklyn Flea? What would I spend my first million dollars on when I made my fortune in caramel sauce, or gourmet popcorn or really excellent maple-glazed bacon sandwiches?
"What do you think would be the best thing to cook in a $20 per hour kitchen in New Jersey that would turn a profit?" I asked him. He looked up from his work. Gave the matter a few moment's thought.
"Meth."
Chocolate Salted Caramel Phyllo Pies (makes 6 individual pies)
This is a really special pie. There's a silky chocolate filling topped with rich salted caramel, all bundled up in a crisp phyllo shell. Pretty heady stuff
For the phyllo cups:
3 full sized sheets of frozen phyllo dough
1 – 2 tbsp melted butter
 
Defrost the pastry in the fridge overnight or on the counter for a couple of hours. Unwrap and cover with a damp tea towel to stop it drying out
Preheat the oven to whatever the phylo box recommends – medium high. Lay one sheet on a board, brush with butter, lay the next sheet on top and brush with butter, then the third sheet and brush with butter so you have a buttery stack
Now slice the sheets in half and put one half on top of the other so you have a 6 layer stack
Cut this stack into 4 inch squares (or thereabouts). Press each square into a muffin tin hole, to make little cups
Bake for as long as the dough box suggests (usually about 12 mins) until the cups are crisp and golden
Cool on a baking rack
For the chocolate filling
Note: this recipe has a raw egg in it. Use eggs that you trust and don't give it to pregnant women, fragile people etc. You can leave the egg out altogether for a softer set chocolate, or, probably the best plan here, add 2 tbsp of cream cheese instead (it will taste a bit like a mild chocolate cheese cake)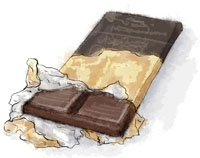 2 bars of good chocolate
3/4 cup of heavy (double) cream
¼ cup of milk
1 large organic fresh egg
Break two bars of dark chocolate into small pieces in a bowl
Pour the ¾ cup of heavy cream and ¼ cup of milk into a pan and heat until it's just about to boil
Tip the hot cream/milk over the chocolate and count to 20
Whisk the melting chocolate into the cream until the color is uniform
Crack in the egg and whisk again. You're not trying to whip up the mixture, just mix everything well
Pour the mixture into a jug and let it cool to room temperature. Pour into the phyllo cups and let them set in the fridge for 2 hours
For the salted caramel
This recipe makes more sauce that you need, but it will keep for 2 weeks in the fridge.
1 cup sugar
¼ cup water
¾ cup cream (heavy, ideally)
3 tbsp unsalted butter
1 tsp Malden salt or other mild salt that you like
 
Boil the water and sugar together over a medium heat, swirling the pan occasionally to mix the sugar (don't stir it). Cook until you have a deep caramel – about 5 minutes
Stand back a bit and add in the cream. The caramel is going to bubble like crazy. Just swirl and let it all come together. Stir in the butter and salt
Let the caramel cool to room temp and pour over the cold chocolate filling. Chill until about 20 mins before you want to serve the pies, then let them come to room temperature before eating
Garnish with a few salt crystals
If You Can Make That You Can Make This
Serve the phyllo cups with the chocolate filling topped with whipped cream on a bed of the warm caramel sauce
Fill the phyllo cups with Greek yogurt and a drizzle of honey. Top with pistachios and some orange slices
Fill with any kind of baked fruit
Or fresh fruit and cream
Or berries crushed into some whipped cream, with or without some crushed meringues
Or serve them warm with roasted tomatoes and goat cheese
Serve the chocolate filling in ramekins and you have a classic pot au chocolate – there are lots of ideas and easy variations on that recipe here
Serve the caramel sauce over ice cream
Toss popcorn in the caramel sauce
Add a tbsp to hot chocolate or milkshakes