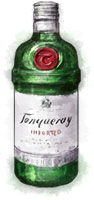 My friend Dee invited me to be her plus one at the opening of the Churchill exhibit at the Morgan Library. "It's a 2 hour drinks reception and Boris Johnson will be there!"
The atrium was packed with a fancy crowd including half of the faculty of Cambridge University, and both Churchill's granddaughter and a bone fide Kennedy, all eating cheese and crackers and having a high old time. "This is great," said Dee making sandwiches out of prosciutto, cheese and grapes. "I won't need to make any dinner tonight."
Boris Johnson was indeed there to make the opening speech, which he did with exactly as much aplomb as anyone could hope for. After bringing up gluttony, smoking and Gallipoli, he cracked a joke about Anglo Saxon versus Romance languages, which got a big laugh.
At this juncture, it's probably worth mentioning that we were all drinking gin and tonics.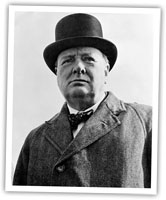 Churchill himself was a big fan of gin – Plymouth Gin to be precise about it. Apparently he believed that passing the cork from the vermouth bottle over a glass of gin was the perfect way to make a martini. I put this theory to Jon upon my return home. "Hard to argue with that."
Gin Chicken (serves 6)
This chicken is so easy to make, it's almost not a recipe at all. The gin gives the meat a lovely herbal hit, and makes for a fragrant pan sauce.
6 skin off chicken breasts (my supermarket helpfully sells chicken already pounded out thin)
½ – ¾ cup gin
2 bay leaves
2 tbsp olive oil
1 ½ tbsp butter
1 tbsp redcurrant jelly (or quince jelly, or cranberry jelly – something in that vein)
Salt and pepper
 
Pound out the chicken breasts so that they're thin and will cook quickly, then marinade in about ¼ cup gin, a tbsp or 2 of olive oil, some pepper and the bay leaves for an hour
Heat up a tbsp of olive oil in a frying pan, and add 1 tbsp of the butter. Season the chicken well, and fry for about 2 mins per side until cooked through (depends on thickness of the chicken)
Take the chicken out of the pan and reduce the heat slightly. Add the remaining ¼ cup of so of gin, and deglaze the pan (by scraping in all the good brown bits with a wooden spoon). Add the ½ tbsp of butter and the redcurrent jelly. Stir to melt in the jelly and create a glossy sauce
Pour over the chicken and serve
Roasted tomatoes, potatoes and olives (serves 4)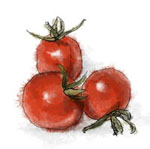 3 cups small new potatoes (halve the bigger ones)
1 1/2 cups cherry tomatoes
3/4 cup pitted black olives
1 head garlic cloves
Olive oil
Salt and pepper
Large bunch of fresh parsley
 
Toss the potatoes in enough olive oil to lightly coat, season well and place on a baking tray with the garlic (leave the cloves in the peel) roast at 375f for 10 mins, by which time they should be starting to roast up
Toss in the tomatoes and olives in with the potatoes and garlic, and season again. Roast for another 10 – 15 minutes until the potatoes are cooked through (exact time depends on the sise of the potatoes – I try to use really tiny ones)
Chop the parsley and sprinkle liberally over the finished dish
Some very simple appetizer ideas
Slice up some salami and cucumber, arrange on a platter
Slice up some cucumber, top each slice with a dollup of sour cream and a fold of smoked salmon. Squeeze over some lemon, add black pepper and dill if you have it around (it's growing on my balcony, so I have it in mind)
Warm a drained can of white beans in some garlic oil (or oil with a few cloves of garlic thrown in) with a sprig of rosemary thrown in. Use to top some grilled bread
Or grill some bread, rub with garlic and drizzle with olive oil
Toss some mixed leaves with lemon and olive oil and lots of salt, then add some goat cheese, walnuts and apple ribbons, made by peeling a peeled apple into ribbons with a vegetable peeler
Or toss some mixed leaves with olive oil, balsamic and salt, then top with toasted pine nuts and shaved Parmesan
Some very simple dessert ideas
Strawberries and cream – whip the cream with some vanilla and a little sugar, or sprinkle the berries with a few drops of balsamic and let them marinate for half an hour
Frozen berries and hot white chocolate – melt ½ cup white chocolate chips (good quality ones) with ½ cup cream to make a sauce. Pour the hot sauce over the berries
Affogato – scoop vanilla ice cream into coffee cups and pour over espresso shots
These chocolate cookies with vin santo
Grapes and a ripe brie 
A general time line for this dinner:
Get home from work
Put the chicken in the gin marinade
Put the potatoes in the oven with a timer on
Put wine in the fridge
Make / arrange dessert
Add the tomatoes and olives to the potatoes. Put the timer back on. Once cooked, let them sit in a warm oven
Make / arrange the appetizer
Serve the appetizer
Cook the chicken and serve with the potatoes
Serve dessert