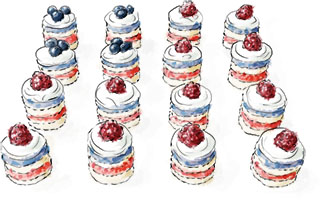 When do things become a tradition? I made the first flag cake for Susan's 4th July BBQ when I was new to New York and probably should have realized that making a cake in a tin larger than my oven was not going to be the most fun way to spend the hottest day of the year.
The next year, word spread, and requests for Flag Cake came in. Older, wiser, smaller flag cakes in disposable foil tins – basic sheet cakes topped with white icing and decorated with the customary lines of blueberries and strawberries / raspberries.
Another year, another batch of Flag Cakes. Mixing things up, just for variety, I added a few handfuls of red and blue fruit to the batter itself – pretty, pretty easy, nice idea.

This was Flag Cake lite – easy all in one cake batter, limited mess, limited fuss. But even that was not without drama.
This was the year that my Mum and Dad and I missed the last ferry to New Jersey, where the party was being held, cadged a lift through the Holland Tunnel and trekked down the hill and along the shore from Hoboken to Weehawken, the heavy layers of cake cutting through the flimsy bottom of the disposable tin and cutting into my arms, so that by the time we arrived for burgers and fireworks, I looked as though I had lost a battle with a feral cat.
This year, higher ambitions, a little more fuss.
Not that this is a tricky cake to make – by no means. It's an all in one cake batter (though you could use a box mix if you prefer – we're using food coloring to dye cakes, the gourmet ship has well and truly sailed) – divided, colored and baked, sandwiched together with an easy butter cream.
And you could stop there – a sheet pan of colored cake topped with the flag decorations. Stamping out mini cakes was a touch of the whimsys in me – I thought they'd be easier to pick up and eat at a BBQ, and I thought they'd be beautiful.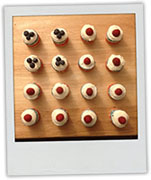 Red White and Blue Flag Cake
6 room temperature eggs
12 oz soft butter
12 oz sugar
12 oz flour
1 tsp baking powder
1 tsp good vanilla extract
Food coloring in red and blue (I use pastes)
Milk – about 2 tbsp
1 half sheet pan
2 quarter sized sheet pans (or whatever you can reasonably manage – I have one of each and wash them up between mixes, which takes longer, but totally works out in the end)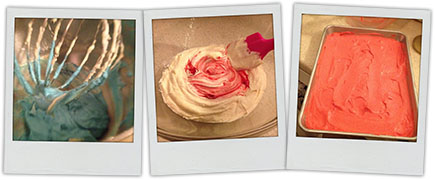 Preheat the oven to 375f
Put the eggs and sugar into the mixer and mix until fluffy. Add the butter, vanilla and baking powder and mix
Sift the flour and add, mixing to just combine
Add milk a tsp at a time until you have a nice dropping consistency to the batter – a couple of tbsp or so
Put ¼ of the mixture into a bowl and dye it red
Put ¼ of the mixture into a bowl and dye it blue
Pour the white mixture onto a half sheet pan, and the red and blue mixtures onto quarter sheet pans. Spread thinly and evenly
Bake for 20 minutes – the cake is ready when it comes away from the sides of the tin and is springy to the touch – it could take 25 mins
Cool

For the icing
3 cups confectioner's (icing) sugar
1 cup soft butter
½ tsp vanilla extract
(milk)
1 carton blueberries (about 1 cup)
2 cartons of raspberries (about 2 cups)
 
Sift the icing sugar or you will end up with lumps
Whisk with the butter and vanilla until it's a smooth spreadable paste. If it's too thick add milk drop by drop until it's perfect
Cut the white layer in half so that all the cakes are now the same size (quarter sheet pan)
Lay one white layer on a board and ice
Top with the red layer and ice again
Top with the white layer and ice again
Top with the blue layer and ice again, reserving some icing for touch ups later
Stamp out circles of cake and put each one in a flattened out cup cake paper or arrange just as they are on a board
Line up the mini cakes in a rectangle and touch up the icing. If it's a hot day and the icing is too runny, put the cakes in the fridge for ten minutes before topping each one with a blueberry or a raspberry according to its place in the flag pattern. (Make sure the fruit it dry when you decorate, or the juice will bleed out into the icing)