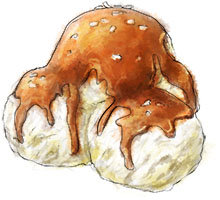 I am highly aware that this is the kind of problem that most people in the world trade me for in an instant, but recently it's been so hot in NYC that our overworked air conditioner has been flooding the balcony.
Jon, armed with duct tape, bits of metal trim and a plastic box, sploshed outside to see what he could do. Confidence was running high. "If duct tape is good enough for Space Travel, it's good enough for me."
Um, what?
"You didn't know? They always take duct tape with them into space. And this one time, back in the 70s, the Command Module failed, so the astronauts took the CO2 scrubbers out, and put them into the Lunar Module so they could use it as a lifeboat to escape. But the CO2 filters were square, and the Luna Module needed round ones. So they used duct tape to bridge the gap."
"Not seriously?"
"Seriously."
He's right too – here's some corresponding evidence.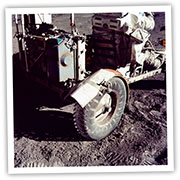 So did duct tape do the job in the swamp formerly known as our balcony? No. Not exactly. Not yet anyway, though Jon, a former Sea Scout, has not given up. "There must be a way. And I will go out there again and work it out. As soon as it gets a bit cooler."
It was time for ice cream and encouragement.
Salted Caramel Ice Magic
Ice Magic was the brand name for the Greatest Thing About Being A Kid In Summer. It was a kind of chocolate sauce that you poured over ice cream that then set hard into a shell.
This is a very sophisticated adult version, though the fun of the drizzle and set, the great pleasure of cracking the topping with a teaspoon, remains intact.
The key is coconut oil, which I buy in jars from Whole Foods, but I believe is pretty easy to find in supermarkets generally.
12 oz white chocolate (really good quality)
2/3 cup coconut oil
1 tbsp light brown sugar
1 tsp salt (plus some Malden Salt crystals for garnish)
Ice cream to serve
 
Break the white chocolate, brown sugar, coconut oil and salt into a pan and heat gently, stirring, until the mixture turns a deep caramel brown (about 5 minutes)
Pour into a jug and let it come to room temperature
Pour over vanilla ice cream and sprinkle with a few crystals of Malden Salt if you think that's the kind of thing you'll like. Wait a few minutes till it sets, then dive in
If You Can Make That You Can Make This
You want to use about 1 1/2 to 2 cups of chocolate for 1 cup of coconut oil. Keeping that ratio in mind, you can make any flavor combination you can think of
The easiest switch up is st use a flavored chocolate
Leave out the salt and add a tsp of mint extract
Or vanilla
Or a tsp or two of rum
Add a handful of crushed candy canes to a mint chocolate version
Switch up the ice cream flavors