Confession: I pretty much never hear the word "tequila" without mentally adding the words "mocking bird". This is what passes for fun in my life. So judge me.
I mentioned this to Jeremy and Hilary, with whom we had spent a happy evening eating churros and drinking margaritas. "That's funny," he said, "because I never hear the word "margarita" without thinking of my sister."
"Who's called Margarita?" Jon wondered. "Who enjoys a stiff drink?"
"Not exactly," Jeremy clarified. "When she was in 5th grade she was in West Side Story, and all the non-speaking characters got to pick names for themselves, and she was a Shark, so she was looking for a suitably Latin name and that's what she came up with."
So now, when I think of Margaritas, I mentally add the words "aka Stephanies".
Lime Margarita / Stephanies (per glass)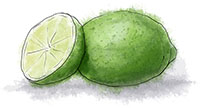 1 measure lime juice
1 measure tequila
1 measure cointreau
superfine sugar to taste
salt
Grate the lime zest onto a saucer and add some salt. Cut the lime in half, and wipe the juice around the rim of the glass, dip the rim into the lime salt
Juice the lime, measure, then shake the ingredients over ice – taste – you may need a bit of sugar if the lime is very sharp – add sugar, shake again and serve