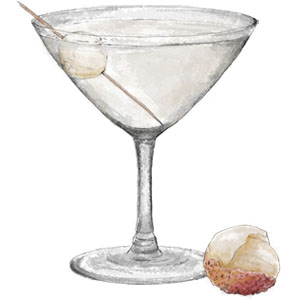 It's possible, I suppose, that you are not aware that today is sneak like a ninja day. Ninjas are subtle like that. They like to celebrate under the radar. But today is sneak like a ninja day, so sneaking will occur, also sushi to honor Ninjas, pizza to honor Ninja Turtles, and lychee martinis, to honor those who have suffered the consequences of throwing caution to the wind and celebrating the occasion with un-ninja-like lack of discipline.
This drink is lethal.
I am not kidding around.
The sweetness of the lychee syrup makes them really easy to drink, and mostly they're pure vodka. Be warned. Famously when we threw our annual sneak like a ninja day party in Warsaw Poland, a guest woke up the following morning on a train in Krakow.
Lychee Martini
Can of lychees
Vodka from the freezer
Edible flowers
 
Arrange individual edible flowers in an ice tray, pour over water and freeze to make beautiful ice cubes
Open the can of lychees and drain into a bowl
Shake 1 measure of vodka, and ½ measure of lychee syrup (from the can) into a martini glass
Garnish with a lychee (I skewer them on cocktail sticks so that there's no danger of them looking like floating eyeballs – happy to leave that image with you), and float a flower ice cube on top
If you're looking for something a bit mellower, try this Lychee Fizz