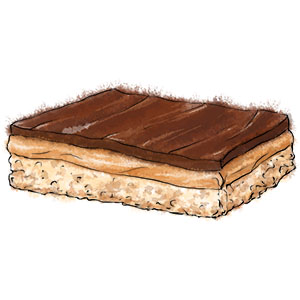 Burns Night is a celebration of the poet responsible for such classic literary hits as A Red Red Rose, and Address to a Haggis. If you're Scottish, like my husband, it's an unmissable opportunity to drink whisky and say things like "Och" – i.e., a day much like any other, really.
Since it's probably not a great idea to attempt to smuggle haggis across the US border, our American celebrations rely heavily on stews, mostly featuring neaps and tatties – turnips and potatoes to the rest of us – and most importantly of all, Granny Hannah's Toffee Cake / Millionaire's shortbread.
You are going to want to eat this.
Shortbread cookie base, sticky toffee filling, smooth chocolate topping.
This recipe, written by Jon's Grandma in the back of an old book, is something of a family treasure. So in October, for Jon's Mum's Significant Birthday Celebrations, we had it printed onto a tea towel for her – we got her other things as well, we didn't just give her a tea towel for her birthday, don't judge us.
Anyway, it turned out that the tea towel was such a hit that she had more copies printed from the delightful Spoonflower for all the brothers this Christmas (there's a great tutorial on the Spoonflower blog – stuff like this is why Pinterest was invented). I've been drying my dishes on Granny Hannah's Shortbread recipe for weeks. The anticipation is building.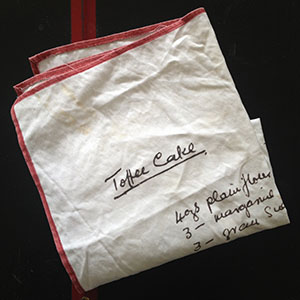 Millionaire's Shortbread – Granny Hannah's recipe
The shortbread:
2/3 cup of sugar
2 sticks of cold butter cut into cubes
2 cups of flour
pinch of salt
A tin about the size of a brownie tin – though I make mine in an old pyrex pie dish
 
Preheat the oven to 350
Rub the butter and the flour together until they resemble sandy breadcrumbs, then rub in the sugar and salt, or put everything in the processor and pulse
Butter the tin, then press in the mixture (it should be about 1cm deep)
Prick it all over with a fork, then bake for half an hour until it is golden and firm
Toffee:
2 tbsp butter
2 tins of sweetened condensed milk (14oz each)
 
Melt the butter in a pan
Add the condensed milk and bring to a boil
Cook for 10 – 15 mins total until the mixture is smooth and caramel colored
Pour over shortbread and allow to cool
Chocolate:
100g (or more) of 70% cocoa chocolate
 
Melt the chocolate (in a bowl over simmering water or in the microwave)
Let it cool for five minutes, then pour it over the toffee layer and smooth with a spatula
Let the chocolate cool and harden before slicing and serving (about half an hour in the fridge)