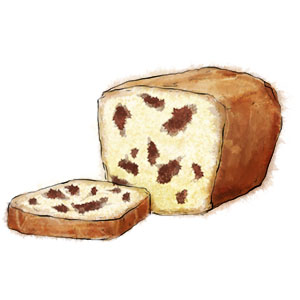 My Aunty Jennifer, of accidental sex grass fame, has been taking part in another biological experiment.
"It started at the Golf Course. Everyone's eating bananas as they go round, and someone threw the peel into the bushes. Basically, he thought it was organic, it would rot down, no problem. And another golfer gave him a dirty look and said that was wrong. Banana peels take 100 years to mulch away.
Well, 100 years seemed like a long time to me, and I kept thinking about it, so I decided to test the theory.
New Years Day last year, I ate a banana I put the peel in my front garden, by the step, near where the pampas grass used to be in fact. I kept an eye on it over the year. It went black, but that's basically it. A whole year on, and it's still there. The experiment is on. 99 years to go."

Banana Bread
New Years resolutions of deprivation, clean living and salad notwithstanding, winter is beginning to bite in NYC, and banana bread is the perfect antedote to dark days and cold nights.
And really, how good is it anyway to start the year with sobriety, self denial and guilt? Far better to be kind to ourselves. Wrap up warm. Eat cake.
1 cup mashed banana
1/3 cup chocolate chips
1 ¼ cups flour
¾ cup sugar
1 tsp baking powder
½ tsp baking soda
½ tsp salt
2 eggs
½ cup vegetable oil
½ cup plain yogurt
1 tsp good quality vanilla extract
 
Preheat the oven to 350
Mix the banana, chocolate chips, flour, sugar, baking powder, baking soda and salt in a bowl
Mix the eggs, yogurt, oil and vanilla extract in a jug
Pour the wet ingredients into the dry ingredients and stir to combine
Butter a loaf tin and pour in the cake batter
Bake for 50 – 55 mins until golden brown