It started with an advert that Jon picked up from somewhere looking for sailors to help out with a 50 foot yacht. Of course, he was keen as mustard, and emailed the owner and after answering a few basic questions, he was on board.
"Questions like which way is Port and which way is Starboard?" I wondered.
"No, more like; "Have you ever sailed before? So you know how to sail then? And you can sail with sails, for real? Can you come along on Saturday?" "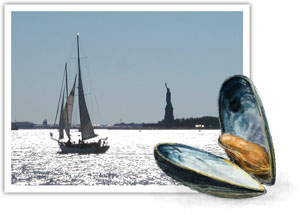 In fairness to Jon, he did ask me whether I wanted to come along too, but I already had plans involving an InStyle magazine and a frozen hot chocolate, so I declined. It was arranged, he would sail, and I would meet him near the Boat Basin afterwards, and we would go for dinner.
The first thing I noticed was the large number of women in bikinis lolling around on the pier drinking mini champagne out of bottles with straws. The second thing I noticed was the large number of women in bikinis drinking mini champagne out of bottles with straws draped over the 50 foot yacht. And there hopping around the deck with coils of rope and a dripping fender was Jonathan.
"Hey love, I'll just be a minute."
He actually had to step over an oiled and tanning body to collect his rucksack.
"So how was it?" I asked as leaped ashore.
"Brilliant. Can you believe it, everyone else wanted to sunbathe, so I got to take her round the Statue Of Liberty. It was amazing!"
"What about the guy who owns the boat?"
"The Captain? Well he did a bit of helming, but mostly he handed out the champagne to the girls."
"Yes I noticed the girls."
"At one point I tried to move a few of them to tack back, but they complained that the sail would put them in the shade, so I had to put the motor on."
We sat on the pier watching women totter none too steadily off the deck, pull on their kaftans and head on their way into the humid New York evening.
"You know, it's almost as though he invited the girls just to meet girls, and not to sail at all." Jon mused.
"And did it work?"
"I don't think so, really. They all seemed to know each-other and they were having a great time reading magazines. They didn't seem all that bothered."
We watched the boats bobbing on the Hudson reflectively for a moment.
"The problem there might be the scatter gun approach," I conjectured. "It probably would have worked better with just one woman, just one bottle of champagne."
"Would you be seduced by a boat and a bottle of champagne?"
"Oh I don't know. I don't really like boats. But probably."
"So what if I said champagne and, as a bonus, no boat?"
"That might work."
We walked home via a wine shop.
This meal could be cooked in a galley on a boat, and could also be cooked on a gas ring on a beach while looking at boats, or in a kitchen to evoke a beachy, boat-y atmosphere. Mussels, rich in vitamin E and zinc, have long been considered an aphrodisiac, especially by the Ancient Greeks who by all accounts knew what they were talking about.
I've dialed down the garlic, for obvious reasons, and the gorgeous winey aromas and the beautiful black mussels make this the most romantic alfresco picnic imaginable.
But also a perfect single solitary treat to celebrate the perfection of simply being, should you find yourself alone on your 50 foot yacht after spending a day sunbathing with semi naked women while a doctor of physics swashbuckles around like Jack Sparrow sailing you up the Hudson and back.
Mussels in white wine
Ingredients (serves 2)

1 pound of mussels (scrubbed)
1 small onion
1 cloves of garlic
1 ½ cups of wine
2 tbsp cream
½ tbsp olive oil
Dice the onion finely
Put a pot with a lid on the heat
Fry the onion in the olive oil for about five minutes until soft and golden
Grate or finely chop the garlic and add to the pan for about a minute – you really don't want the garlic to burn or it makes the whole dish taste bitter
Pour in the wine and scrape up all the brown bits from the bottom of the pan
Tip in the mussels and clamp the lid on
Steam on a medium heat, shaking the pan occasionally for 6 – 8 minutes
Pour in the cream, stir to heat through, then serve the mussels in bowls, with bread to mop up the sauce.
A note on mussels

Raw: open = bad, closed = good.
Cooked: open = good, closed = bad
If you buy mussels in from a fishmonger or in a supermarket, they ought to come cleaned with the beards removed and they should all be tightly shut. If there are any open ones, give them a tap on the counter. If they immediately shut, that's fine, but if they stay open, the mussel inside is dead, and should be thrown away as, most likely, it will make you sick.
If you get mussels that still have the beards attached, (they're the obvious stringy tangles on the shells) simply tug them off and give the shells a good scrub.
If you've bought mussels on the pier from some guy selling them out of a bucket , it's a good idea to rinse them by dunking them in a bowl of cold water and a spoonful of flour for ten minutes. The mussels will eat the flour and expel any sand, cleaning themselves.