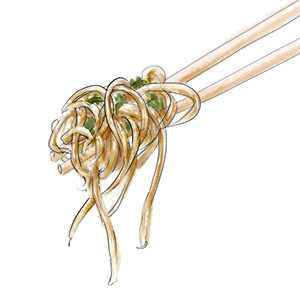 As the weather heats up in NYC I turn to the internet – dangerous start – to order summer dresses from websites – bad idea – with the vague intent that if they're not absolutely perfect, I promise I'll send them back – not going to happen. Good for ModCloth, not so good for HSBC.
As a result, I am twirling about in my new frocks like a Lady-like Dervish.
But aside from summer dresses, the warm weather unleashes my other seasonal obsession, cold noodle salads.
Honestly, right now I could eat a cold noodle salad 6 days out of 7, no problem. And when Jon goes away to look at stars in South America, that's probably what I'm going to do.
My noodle salads have a little variety. Sometimes the noodle changes. Glass noodles – soba noodles – regular linguini. Sometimes I add chicken. Sometimes a bit of steak or salmon. Usually cucumber, usually cilantro or mint, both of which are taking off nicely on the balcony (very happy!), usually sugar snap peas or snow peas. Sometimes I make a sauce, sometimes, a good squirt of lime juice and a splash of chili oil/sesame oil is enough. But here's a basic recipe that can act as a blue print for the many noodle salads of summer ahead.
Noodle Salad
½ clove garlic
1 inch fresh ginger
2 tbsp peanut butter
1 tbsp warm water
½ tbsp soy sauce
1 tbsp sesame oil
1 tbsp white or red wine vinegar
½ tsp sugar
2 tsp chili oil (or 1 tsp chili flakes)
 
Blend everything in a processor until smooth. Keep refrigerated

 for up to 5 days (but the garlic will get stronger the longer it sits)

Make noodles. Cool in ice water or under a cold tap

Mix with enough sauce to coat then add:
cooked chicken / steak / salmon
sliced raw mushrooms
sliced cucumber
sliced pepper
sliced sugar snap peas
beansprouts
sliced spring onions
shredded carrot
sliced celery
sliced fennel
mint
cilantro
roasted peanuts
sesame seeds