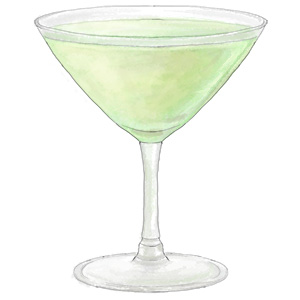 Back from the NYU Abu Dhabi Physics Department for the summer, my friend Ingyin had several priorities for our Saturday. Dress shopping. Manicure. Brunch. Not necessarily in that order.
On the table next to us, a grandfather was comforting his granddaughter, who both Ingyin and I took against because 1 – she was too grief stricken to eat her pancakes and 2 – she kept cutting her grandfather off mid sentence to text.
It seemed that she had been broken up with. The grandfather said all the right things: now you know better, plenty of fish in the sea, he wasn't right for you.
Eventually she sobbed, you don't know how it feels to be me!
No, he agreed. When I was your age I was married to your grandma. And I was fighting in Vietnam.
We drank our breakfast cocktails and watched life walk past us down west 4th street, suddenly grateful for the various non-problems that currently count as problems in our lives.
Melon Margaritas (makes a jugful)
1 cup sugar
1 cup water
1 large handful of mint
1 small honeydew melon
½ cucumber – about 6 inches
½ cup Tequila
½ cup Triple sec
¼ cup lime juice (about 3 limes)
Ice
 
Make the mint syrup by heating the sugar and water until the sugar dissolves. Add the mint, turn off the heat and let the syrup cool to room temp. Sieve out the mint and store in the fridge.
Blend the cucumber and melon to a pulp.
Add the tequila, triple sec, lime juice and a handful of ice and ice and blend until smooth.
Add mint syrup to taste (I like my drink pretty tart, so I do a couple of tsps.) Blend again and drink.