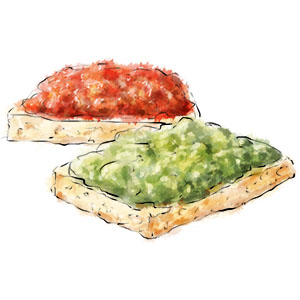 My dad was in town for a week of ballet, baseball, jazz, and edgy downtown sketch comedy. Spot the odd one out.
"I've written an, um, interesting sketch," I warned him. "I'm still quite new at this. I'm pushing the boundaries of what I write and seeing how it ends up. It's kinda experimental."
"How much nudity?" he sighed.
A lot, as it turned out. Which is now pretty much par for the course with my parents. I suppose the first time they gathered on the sofa to proudly watch Mile High it might have come as surprise to them to see a sex scene, penned by their daughter, involving a couple getting frisky on top of a drinks trolley. Now? They barely blink.
We sat on the balcony and drank white wine. I made avocado toasts. I think this helped.
(For those of you not easily offended, the sketch can be found here.)
Bruschetta
Bruschetta is perfect too hot to really cook picking at food with drinks. I make a big tray of them, add a huge green salad and call it dinner.
I used to use ficelle or the thinnest baguette I could find at Amy's Bread, because I liked the symmetry and bite-sized-ness of the little rounds. This summer, I apparently don't care about that so much. I'm using rosemary boule or whatever bread looks good regardless of shape, and slicing into irregular soldiers.
This, plus the fact that having hated lilies for years and years, I've now started to like them, is pleasant evidence that my tastes continue to evolve and change.
Anyway, you slice up bread into fat soldiers (slices, if you're American), drizzle with a bit of olive oil, and bake at 450f for about 10 mins until they are just browning.
Then top with:
Guacamole
Mush 1 avocado with a pinch of salt and the juice of  half a lime (at least, taste and add more if necessary)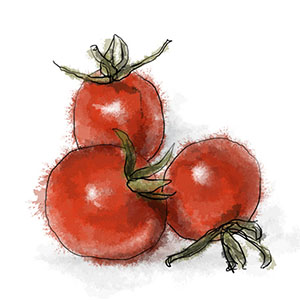 Tomato
Blend a handful of tomatoes with a pinch of salt and a good glug of olive oil to make a paste
Pesto
Blend 2 handfuls of basil with a small handful of parmesan and pine nuts, 1 small clove of garlic, a pinch of salt and pepper, and enough light olive oil to make a thick paste
Ricotta and peppers
Buy fresh ricotta and a jar of roasted peppers. Slice the peppers and top the ricotta, squirt with lemon and grind over some black pepper.