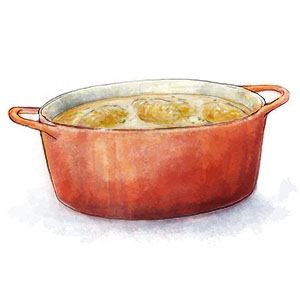 There's a an old joke that I think of whenever I pick thyme leaves off the little plant that's survived windowsills, balconies and back to a window sill again, hardy as can be. "You want to hear a joke about herbs?" "Yes, is there thyme?"
My friend James, a fellow Slapfight writer wrote a version of this joke a couple of weeks ago, a customer orders "tea with thyme", the waiter brings the tea "and the time is 9.15".
Anyway, this chicken answers the question "is there thyme/time?" by being both scattered with fragrant leaves, and speedy to put on the table. But it tastes like time and love have been lavished up on it. It really does. And it's one of those, wow, my kitchen smells amazing dishes that fills the evening with a sense of relaxed happiness and calm.
I do 2ish  chicken thighs per person, depending on their size. Sometimes I leave the bones in, in which case the dish takes a little longer to cook, sometimes I leave them out, which looks less attractive, but tastes just as good. This is not an especially precise dish, but for 4 people:
6 – 10 bone in skin on chicken thighs 
2 large onions
2 cloves of garlic
1 cup mushrooms
¼ cup sliced unsmoked bacon or lardons (about 4 rashers)
1 cup white wine
¼ cup cream
olive oil
salt and pepper
scant 1 tbsp fresh thyme – 6ish sprigs 
 
Dice the onion, slice the mushrooms and dice the bacon so you're all ready to go
Heat up a tbsp. of olive oil in a large pan (I use my le cruset – joy)
Add the onions, season well, and cook until translucent. Add the bacon and grate in the garlic. Cook for a few minutes to soften, then add the mushrooms, season again, and cook for about 5 minutes until everything is soft and sweet.
You're supposed to take all this mixture out of the pan and return it after the chicken is browned, but I don't generally bother, so do that, or, push it to one side, add the chicken skin side down, and brown for a bit.
Flip the chicken over, add the wine and  thyme, and let everything bubble away gently for about 20 mins, stirring occasionally, until the chicken is cooked through
Add the cream, and let the sauce come back to the boil, then serve with a green salad, or green beans, and some fresh bread.
If you wanted to you could add a handful or two of frozen pearl onions when you cook the onion mixture – Jon loves these, so generally, I add them. You could leave out the thyme, and sprinkle fresh chopped parsley over the top at the end – this looks prettier and tastes really fresh. Along similar lines, you could add a squirt of lemon at the end to the sauce to brighten it up. In winter sometimes I add half a can of chestnuts about five minutes before the end of cooking time.