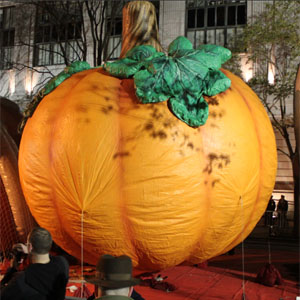 It's become an absolute Thanksgiving tradition that the night before the parade Jon and I head to the Natural History Museum to see the giant balloons tethered down under nets, ready and waiting to fly.
We shuffle around the block in a swirling sea of people – some of whom – totally insane – bring children in strollers as an added pedestrian menace. We inch past the vast prone limbs of Buzz Lightyear, Hello Kitty and Snoopy. Dora the Explorer lies nose to pavement on West 77th street.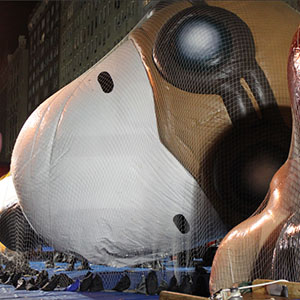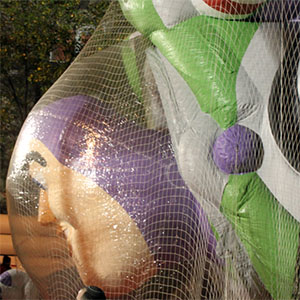 This tends to bring out the Romantic in me. In my mind, toppled Sponge Bob Square Pants is a modern Ozymandias, "Round the decay / of that colossal wreck, boundless and bare, / the lone and level sands stretch far away," I quote. Jon gives me a straight look.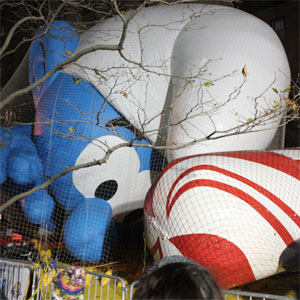 Tomorrow they soar, but tonight, they are captured, netted and beached. All the potential ready and waiting to rise.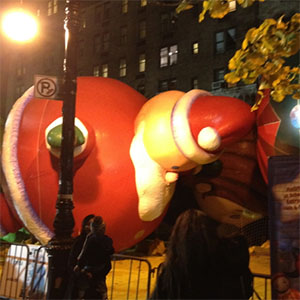 Later, we drink bourbon and eat hot soup, and talk about the things we are thankful for.
Butternut Squash Apple Soup with a Melted Cheese Crouton (serves 6 – 8 as a starter or 4 as dinner)
This recipe looks deceptively long – it's actually really easy to make – you cook squash in chicken stock, add apples and blend. The rest is details – good details, though.
My favorite thing about this soup is the cheesy crouton floating on top.
The inspiration for this soup comes by way of an Ina Garten recipe that I read about on Dinner a Love Story – a fabulous blog and cook book, well worth checking out.
1 large onion
1 large butternut squash
1 ½ cups unsweetened apple sauce
1 box of organic chicken stock (or you can make your own)
Apple juice to top up the liquid level
1 tbsp butter
olive oil
salt and pepper
1 baguette
1 clove garlic
1 ½ cups grated Gruyere cheese (or other melting cheese – fontina would be nice)
 
Dice the onion and sauté in a tbsp. of butter and a splash of olive oil in a large pan
Peel and de-seed the squash and cube into 1 inch chunks. Add to the now nicely browned onion, and toss to coat in the oil and butter. Season well
Pour over enough chicken stock to cover the squash (about 2 – 3 cups). Put the lid on and cook for 25 mins until the squash is tender
Add the apple sauce and blend the soup with an immersion blender. Add apple juice or apple cider until the soup is the consistency that you like. This soup can be made in advance up to this point, then kept chilled and reheated gently just before serving
When you're pretty much ready to serve the soup:
Slice the baguette into 2 cm slices, and rub with a cut garlic clove. Place on a baking tray and drizzle with a little olive oil. Season well
Top with the cheese and bake in a 350 over for about 10 minutes, until the cheese is melted and the bread is crunchy
Serve the crouton on top of the soup