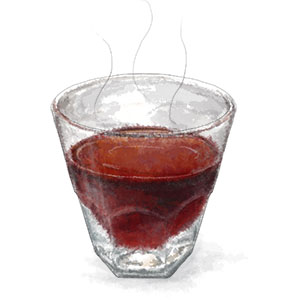 Probably the thing that Jon likes most about our new apartment is that we have room for a proper Christmas tree. Taller than him. Which is pretty tall. He set off into the cold, the day after Thanksgiving, steely eyed and focused, much like a woodsman of old in search of the perfect specimen of fir, and returned with a shoulder full of needles and the biggest tree we've ever had the pleasure of decorating.
So now everything smells of pine, blended with cinnamon from the wreath, and tangerines. It's time to hunker down, mull wine, or, better still, make a Steaming Bishop.
Years ago a friend told me that this was his Grandma's go-to Sunday night drink in winter. Apparently she'd get happy and tipsy and sing the rude words to Christmas Carols. Every time I drink one, that's EXACTLY what I feel like doing.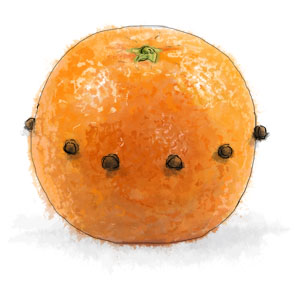 Steaming Bishop (makes 6 glasses)
½ bottle of port
½ cup of orange juice
1 orange studded with 12 cloves
1 cinnamon stick 
 
Put the orange into a medium oven for 15 minutes to roast
Pour the port and the orange juice into a pan
Heat gently with the clove-studded orange and the cinnamon stick until steaming but not boiling