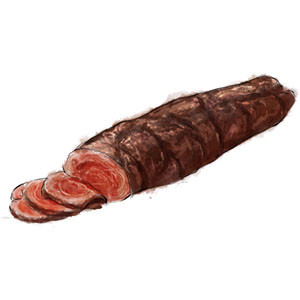 Christmas in the Knowles household has always lasted the full 12 days, not least because slap dab in the middle of it is my Mum's birthday. In the last few years we've taken to celebrating in style, with an afternoon at the ballet, followed by dinner and presents back at home.
Sarah brings the wine, and I make the dinner – Fillet of beef with a red wine sauce, red cabbage, beans and some kind of starch – dauphinoise potatoes one year, celeriac puree another.
Now fillet of beef is a Not Screwing Around kind of celebration dinner. It's expensive, yes, but it's reliably delicious, and easy to cook when you get in from the theatre and want to put elegant, special food on the table with minimal fuss and hanging about.
Here's what you do:
Buy a fillet of beef. Tell the butcher what you need, how many people you are cooking for, and chose one that looks lean and dark.
Let it sit out of the fridge for half an hour before you want to cook it.
Pre heat the oven as hot as it will go – 500F
Smother the beef in a mush of butter, grain mustard and thyme leaves. Season really well.
Put on an oven tray and put in the oven for 22 mins (rare) 25 mins (medium to well). Let it rest, covered, for at least 5 mins. Slice and serve.