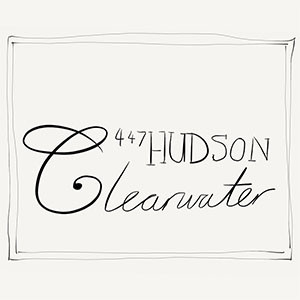 The first time I went to Clearwater, on a grim November evening with lashing rain and wind whipping in off the Hudson, it took me a full few minutes find the entrance. Turns out, it's "down the side, not through the door – that's an apartment – through the gate into a deserted courtyard, and up the steps." That is the actual text message I sent to Jon, who arrived, damply, a few minutes later.
"$13 for a cocktail, and they can't afford to put up a sign?" he said, peeling off his coat.
But then the charm starts to take a hold of you and the pisco, yuzu, angostura bitters and egg white froth cocktail kicks in, and everything mellows right out, and the candles flicker and a burst of fragrant steam hisses in from the open kitchen, and someone passes you a little bowl of roasted Marcona almonds and you start to feel just perfect, thank you.
Once in, Clearwater is a pretty straightforward set up in the natural-y organic-y American Modern vibe: seasonal flowers, candles in jars, a beautiful slab-of-wood bar along the open kitchen for those night when you want to relax with a glass of wine and watch other people working their asses off. There's a sunken dining room, packed with people with immaculate highlights. It's all very stylish in a laid-back way that you just know takes precision planning.
We kicked things off with roasted delicata squash, butternut squash dumplings and a sage fondu.  Seriously. A cheesy sage fondu with things made from squash to eat with it. Unceremoniously, we wolfed it.
Jon moved onto a meltingly tender hanger steak, accompanied by a potato gratin, fragrant with thyme and a bed of black kale. The bosky flavors and deep rich colors adding up to a pre-Raphaelite fantasy plate. The kind of food Dante Gabriel would have fed to Elizabeth Siddal after a vigorous afternoon of paining and making out in the studio, if black kale had been a thing back then. I had butter clams with little puffs of gnocci in a light bullion brightened with parsley and lemon.
The slightly redundantly named Apple Tarte Tatain was dark with glistening caramel – apparently, a sea salt caramel, though it tasted just like caramel caramel, which I was fine with because honestly, why would you salt sweet apples? Anyway, it came with a perfect pearl of vanilla ice cream.
That's how Clearwater took up residence in our hearts and stomachs. It's where we've celebrated friend's birthdays, taken visiting parents and godparents, where we've toasted such momentous life events as Getting Through March 2013 and Dan's 30th Birthday. It's an ideal place to unwind and eat the season, with a constantly changing menu and a list of specials that genuinely make you re-think menu choices when you hear them. It's great. Basically. As long as you can just bloody find it.
What's the damage?
Appetizers – $8 – 15 ish
Mains – $20 – 25 ish
Cocktails – $13
Clearwater -Â 447 Hudson Street (actually through a gate on Morton Street) 212 989 3255