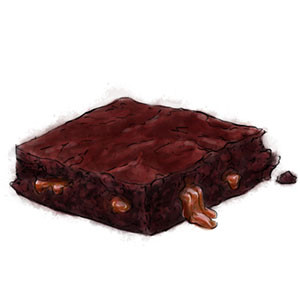 Sometimes only chocolate will do. This is chocolate worth splurging on.
These are some serious no kidding around brownies. Really. I first made them for my friend Karen, who was 8+ months pregnant at the time, and in need of comfort and chocolate.
I thought I had a bag of chocolate chips in the fridge, but it turned out, Jon ate them. But, inexplicably, didn't eat the couple of tubes of Rolos that were also in the fridge. So that pretty much decided that.
You have to try these. Beautiful ribbons of caramel, deep chocolate, all good.
Chocolate Caramel Brownies
If you're using regular-sized Rolos, chop them into halves and quarters. If you're using mini Rolos, you're good to go. And if you wanted to be terribly au currant about it, you could add a sprinkling of sea salt flakes to the top before baking.
7 oz chocolate (which is usually 2 bars – I use Lint dark 70) 1 stick of butter (4 oz) 1 ½ cups of sugar (12 oz) 2 tsp vanilla essence ¾ cup flour (6 oz) 4 eggs ¼ tsp baking powder 2/3 cup Rolos (fridge cold)  
Pre heat the oven to 350 (180C)
Melt the chocolate and butter in a bowl over a pan of simmering water or in the microwave
Whisk in the sugar until the mixture is fluffy
Add the vanilla or espresso and the baking powder
Stir in the eggs and flour alternately until the mixture combines
Dust the Rolos with a little extra flour to dust, and mix in (this stops them sinking to the bottom)
Pour into a buttered 8 inch square tin
Bake for 40 minutes until cracked on the top and gooey in the middle – keep an eye on them because ovens vary a lot (if your oven is unreliable like mine, turn the tin a few times to get more even cooking)
Eat warm with vanilla ice cream.