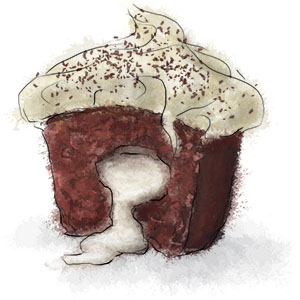 One Halloween when my husband was a teenager, he was picked to perform in a Murder Mystery night hosted by the local Rotary Club. "It was themed around classic Halloween characters – Dracula, Frankenstein, a Ghost. Someone got murdered, and the Rotarians had to guess who dun it."
"So it was an undead murder mystery?" I checked.
"Yes," said Jon, as though this did not strike him as odd. 
"It took a lot of guessing, that's for sure. Dinner started at 6.30 and went on past midnight because there were a lot of plot twists and we didn't bother to rehearse before we turned up."
Rotarians are good people who raise money for charity and get involved in local community causes. They do not now, and did not then, deserve anything like this. They began to lean heavily into the whiskey.
"By the end of the night, I don't think they were really making serious guesses," said Jon, still a little peeved. "They were just yelling out "Was it the Bishop in the closet with the butler and the whip?""
Oozing Pus Chocolate Cakes
These are an absolute Halloween tradition in my house. And though you can make them with chocolate-chocolate truffles, and they will ooze elegantly, it's the white, pus-like sweetness here that ticks every box for me – unexpected, gross, delicious.
5 oz chocolate (just less than 2 bars) ¼ cup plus 1 tbsp butter 3 large eggs 3 large egg yolks ¼ cup of sugar 3 tbsp flour 8 – 12 white chocolate truffles (I usually use the Lindt Lindor ones that are sold individually at the checkout) 
 
Pre heat the oven to 320f
Put the truffles in the fridge to firm up
Melt the chocolate and the butter in a bowl over a pan of hot water or in the microwave (gently, patiently)
Meanwhile whisk the eggs, the yolks and the sugar until they are fluffy and pale (takes about 5 mins)
Fold the chocolate gently into the egg mixture
Add the flour and stir gently to combine
Divide half the mixture into cake cases – or straight into a well-greased muffin tin, pop a cold truffle on top, then layer over the other half of the chocolate mixture
Bake for about 15 minutes – keep an eye on them – the top should be just set and cracked. Let them cool in the tin for 5 mins, then transfer to a rack.
Serve warm, with cream on the side, or cool and top with whipped cream, dusted with coco powder.