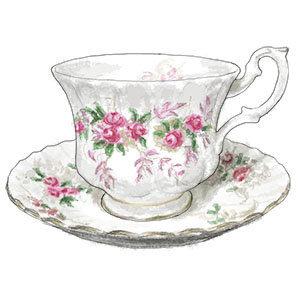 These truffles are everything. Pink. Chocolate. Heart-shaped box. Boom.
Hearts not your thing? How about Penguins? Terribly romantic when you think about it, mating for life. Until you eat them.
1940's champagne saucers: the essence of glamor.
And a bottle of Laurent Perrier Rose to road-test them with.
Liven up breakfast in bed with a special cup of tea: this one is blood orange hibiscus, and it's a gorgeous ruby red.
Or romance the hell out of morning coffee with a proud and pink hibiscus donut from Dough.
Sugar crash your afternoon in the best possible way with some spicy Wicked Hot Chocolate
Or think savory, get yourselves some valentine-red Laguiole steak knives, and prepare for a great night in.
Season up that steak with with Himalayan salt – the natural pink color is the result of high mineral and iron content, and the flavor is soft and mild.
Go big or go home with a tower of pink macarons.