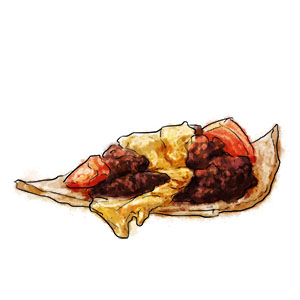 Dom, fresh off the plane from Hong Kong, was excited to be invited to his first Giants game, "I didn't know a lot about American sports, but I was willing to give them a go."
Keen as mustard, he hit up the internet to buy an appropriate outfit, chose the most flattering color, dressed up, hopped on a train and headed to Medowlands. It was only as he approached the stadium that it became glaringly obvious to him that something was wrong.
"Everyone was in red and white. I was in orange and black. Curse you! San Francisco and your baseball team!"
Chorizo Nachos
This is more of a suggestion than a recipe, really, but here goes.
Fry a packet of ground chorizo until the meat is browned and crisp, then add a couple of handfuls of chopped tomatoes.
Heat up a pile of nachos in the oven, top with the chorizo and tomatoes, scatter over grated cheese, and heat until melted.
Add blobs of sour cream, peppers, salsa, avocado etc. to your heart's desire. Eat.